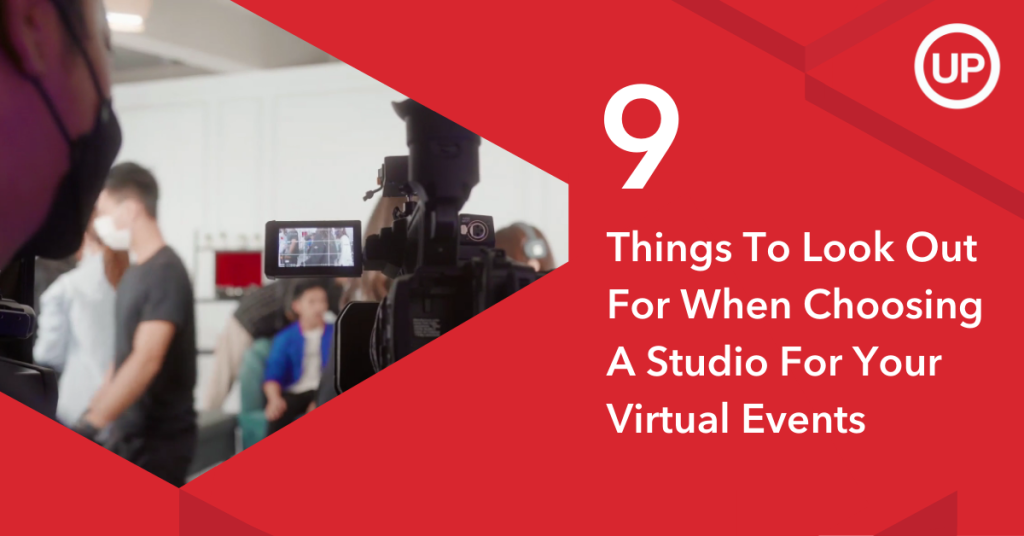 A well-produced virtual event has the tendency to sweep us away into a larger-than-life experience, so much so that we don't often stop to wonder what goes on behind the scenes. But if you were to take a peek, you'd probably notice a video production studio.
"We're seeing an uptick in demand for our studios as clients are shifting away from simple Zoom webinars that are held in the office or even at home and exploring more creative ways to connect with and engage their audiences," Darren Chia, Studio Manager at Unearthed Productions, says.
However, choosing the right studio for your virtual event may not be as straightforward. Read on to find out the features of a studio that you should keep a lookout for when planning your next virtual event.
Green Screen & Studio Lighting
Building a set can run up the budget, so many of our clients turn to a green screen. This allows our livestream engineer to 'key out' or digitally remove the background and drop your emcee or speaker onto a desired 3D virtual stage.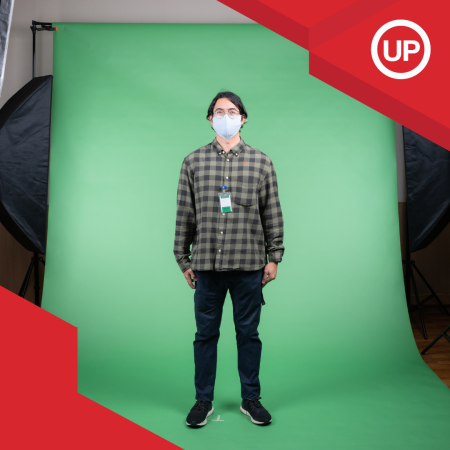 But an improperly lit green screen can cause the subject to blend into the background. "As a rule of thumb, any area of the green screen that appears in the frame needs to be evenly lit," Danial Piperdy, Technical Director at Live Productions, says. Live Productions is the technical arm of Unearthed Productions.
Check that your studio has at least two lights (with diffusers). Danial recommends placing one on each side of your subject and gradually adjusting the angle of lighting such that the lit areas don't overlap and create contrast.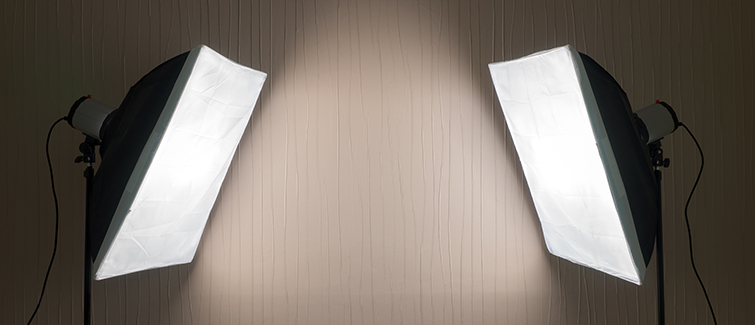 When light from a direct source passes through a diffuser (usually a piece of silk attached to a frame), it softens and lights up an area in a consistent white tone. Without a diffuser, light from a direct source will create a harshly lit centre that's surrounded by a gradient, resulting in uneven lighting.
For larger-scale virtual events (such as an award ceremony or dinner & dance) where two or more people are likely to be in the frame at a time or moving around, having more lights or overhead lighting is always wise. After all, the objective is to ensure your green screen is evenly lit regardless of the scale of your virtual event.
The role of teleprompters has evolved along with the scope of virtual events. Today, teleprompters are not just used to display scripts, but also slides, which help your emcee and speakers to recall talking points more easily.
At the same time, they deliver a live feed of the virtual event and real-time comments from the audience to your emcee and speakers. These pieces of information enable your emcee and speakers to interact with the 3D virtual stage more authentically and respond to the audience's feedback on the fly.
To ensure that your studio is designed to power this seamless experience, check that it has a minimum of two teleprompters. We like television screens for their generous real estate – enough that your emcee and speakers don't have to squint!
While you can get started easily with just one camera, confining yourself to a single shot throughout the whole event isn't going to win you any award from the audience. 
Ask if your studio provides a second camera. We enjoy using a second camera to capture a behind-the-scenes look of the virtual event, which helps to brighten the mood and create a more dynamic livestream.
When your audience is streaming your virtual event, it's viewing data that you've transmitted to it. This includes both video from your cameras and audio from your microphones, which need to pass through a device called an encoder before they can reach your audience.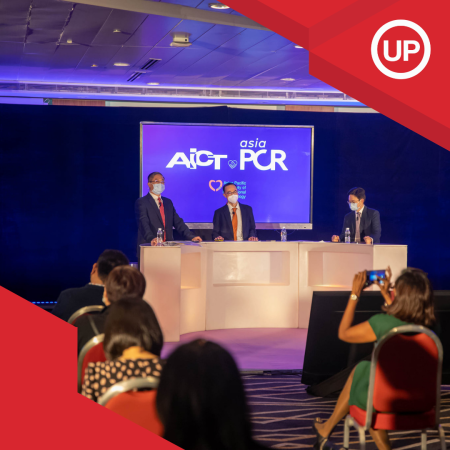 Our encoder of choice is the Blackmagic ATEM Mini Pro, which can be found at each of our studios. It's able to process huge amounts of data from four cameras and four microphones, giving us the flexibility to host large-scale virtual events with more than one stage and multiple live speakers.
These events are commonly livestreamed at 1080p (Full HD) resolution, which is only achievable if the encoder at your studio is compatible with your cameras and livestreaming software.
Speaking of livestreaming software …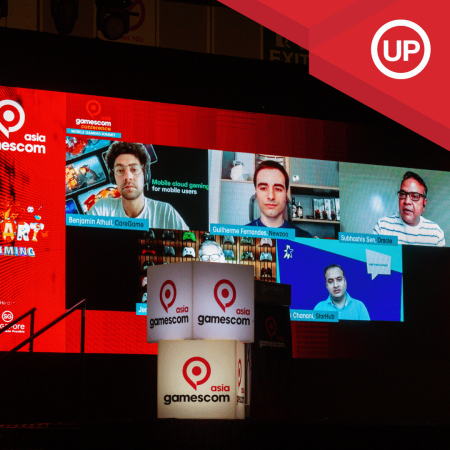 Another important consideration that will determine the scale of your virtual event is the livestreaming software. Across our studios, our computers are installed with vMix Pro, which allows us to bring in up to eight remote speakers simultaneously.
There's also baked-in integration with all major livestreaming platforms such as Zoom, Facebook Live, Microsoft Teams, Twitch and YouTube, as well as support for up to three livestreaming destinations at the same time. 
But the amount of bandwidth that you have can still vary wildly throughout the day. One way to ensure you'll always get the maximum amount of bandwidth is by streaming out your virtual event via a dedicated network. 
The 800 Mbps network at Hybrid Experience @ Suntec Singapore is protected by a static IP address to prevent unauthorised access, making it the perfect studio for several important events such as The Purple Parade 2020, STB's annual Tourism Industry Conference and gamescom asia 2021.
Your virtual event can quickly turn into a logistical nightmare if your studio is not large enough. From the green screen to the studio lighting to the teleprompters to the cameras to the production console, there's a lot of equipment to accommodate. 
A safe bet would be a studio that's at least 16m long x 8m wide x 3m high, with a lounge for your emcee and speakers. The latter provides a quiet setting for them to rest between takes and prevents their sensitive microphones from interrupting the livestream.
A virtual event may feel less intimidating than a physical event, but its effectiveness is still dependent on whether you're able to keep to its duration. If it ends too quickly, your audience may feel short-changed. If it exceeds its intended runtime, you risk your audience turning off the stream.

A rehearsal gives your emcee and speakers a chance to practise their pacing while ironing out any technical issue. However, a studio may charge a rehearsal fee. Enquire with your studio to find out the rates.
Conclusion
By this point, it's clear that a studio is integral to the success of your virtual event. Your choice of studio should align with the scale of your virtual event. Involve the right stakeholders from your organisation and perform an on-site evaluation of the studio before committing to it. After all, you can only verify the available bandwidth at the studio by actually being there!
If you're running a full-fledged virtual event for the first time, it's important to have access to the right support. Will the studio help to set up the equipment? What about technical assistance on the day of the virtual event? Does the studio provide add-on services like speaker management and post-event analytics? Will there be a project manager to guide you?
Knowing the answers to these questions will help you decide whether a studio is a good fit for your organisation or brand in the long run and secure a better return on your event budget.
Our Experience Managers are on hand to help you take the fuss out of organising and running your hybrid or virtual event, whether it's a webinar, a conference, an AGM, a town hall meeting, an award ceremony, dinner & dance or a product launch.
Create your next hybrid or virtual event experience with us today! Book a complimentary consultation or contact us at +65 8201 4088 (WhatsApp) or at +65 6242 8032 (Call).