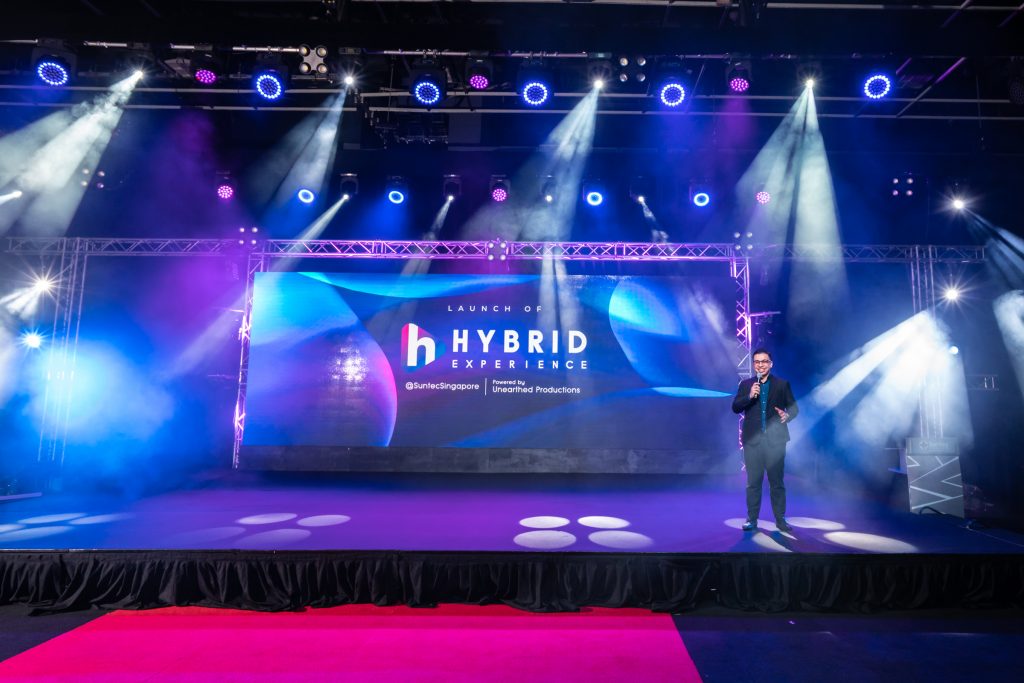 Near & Far, Unearthed Gives Your Entire Audience
A Chance To Participate
HYBRID EXPERIENCE @ SUNTEC SINGAPORE

With more than 15 years of event planning experience under our belt, Unearthed Productions is proud of our reputation as an industry leader and a pioneer in the hybrid event space. The Hybrid Experience Centre revolves around our in-house production studio, which allows us to provide our clients with a complete and comprehensive production experience.
Located right in the heart of SUNTEC SINGAPORE, our massive 42,000m2 space lends itself to virtual and hybrid events, ensuring that our clients have the perfect stage to plan, produce, and stream their event with state of the art technologies.
Throughout our time in business, Hybrid Experience has served as the stage for some of the largest MNC and government events, including the Nation's Birthday online celebration, plus so many more.
The biggest benefit that The Hybrid Experience Centre offers is its comprehensive and broadcast-ready production studio, complete with overhead light rigs, 4K cameras, and ultra-fast and reliable connection speeds for seamless internet streaming.
From conferences to community events, the Hybrid Experience Centre is a modular setup that can be modified to align to your needs. Not to mention, there's enough room for a live audience as big as 250 people.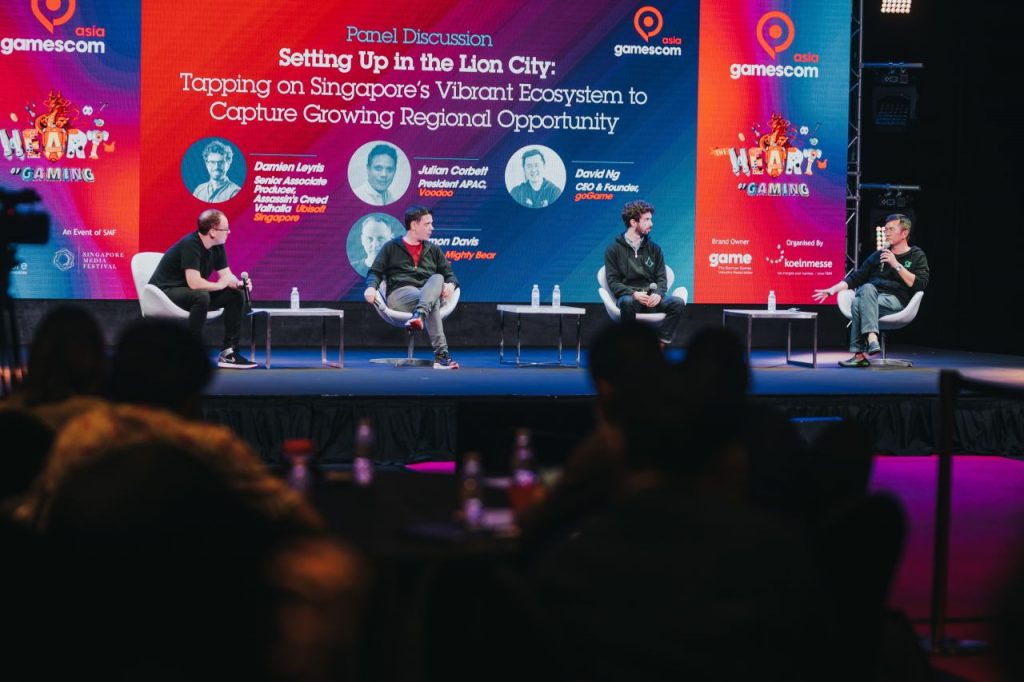 HYBRID EXPERIENCE @ SUNTEC SINGAPORE
At Unearthed productions, we pride ourselves on our ability to offer a seamless, one stop experience for you. From hospitality management that includes catering, accessibility, and amenities, to technical production, content creation, and high quality streaming capabilities, our team is always up to the task of planning, producing, and managing your virtual or hybrid events.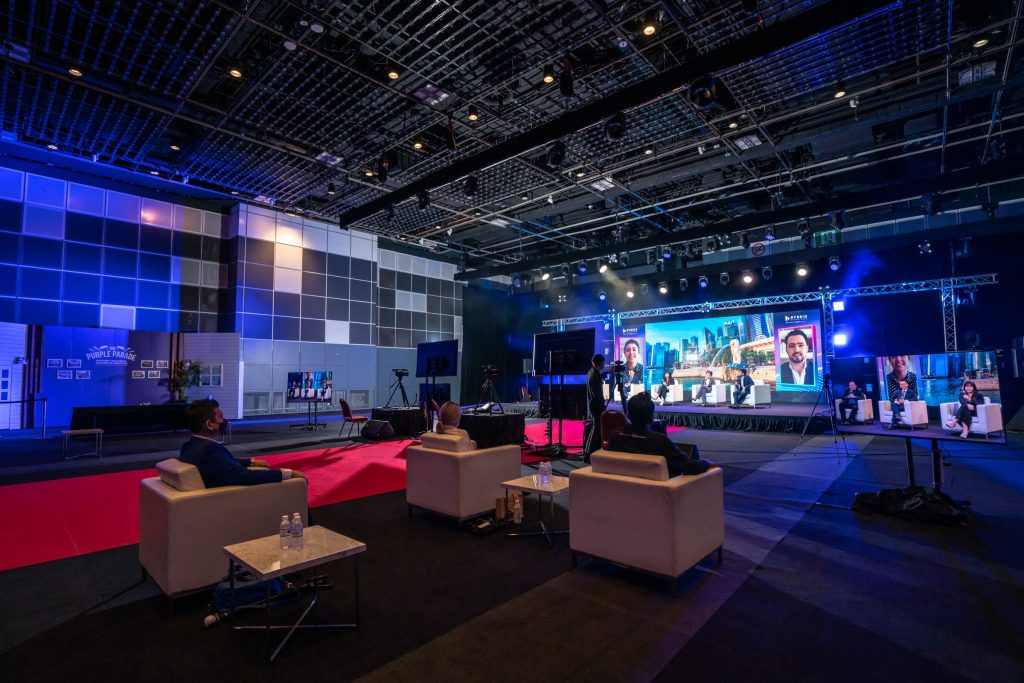 Present your content in-front of a cinematic 8m Video Wall backdrop which can also feature
remote callers. With cameras, lightings and audio systems in place – your event will be
streamed LIVE to any platform with ease!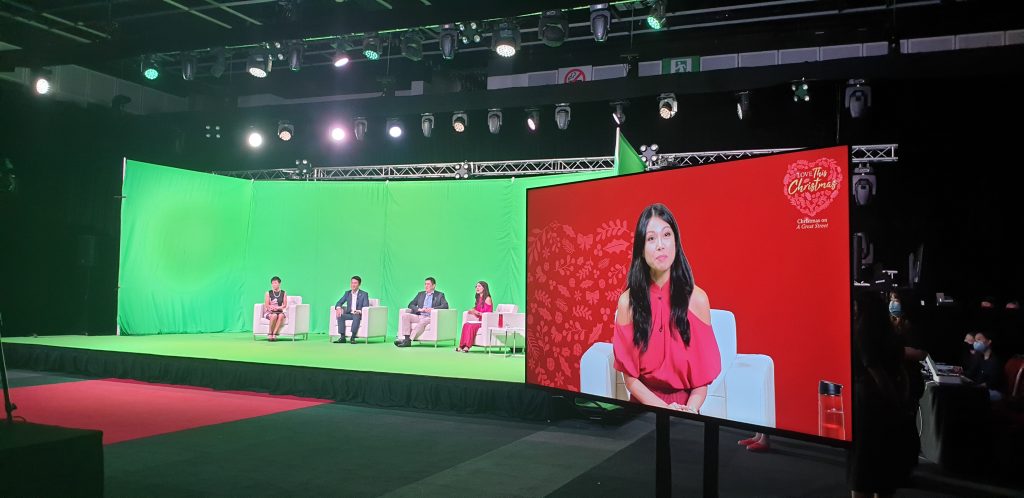 Host your events at Singapore's Largest Green Screen Studio measuring 32ftL x 24ftW x 12ftH
– with an integrated chromakey virtual background – you can get your event set up with ease. STAGING
32ft x 24ft x 2ft Existing Stage
10m x 8m Green Screen Backdrop
(Custom size available)
CAMERA PRODUCTION
3x 4K PANASONIC Cameras
1x BLACKMAGIC ATEM Camera Switcher
1x PULSE Video Switcher
LIVESTREAM PRODUCTION
1x VMix Broadcast Software
1x Open Broadcast Software (OBS)
1x PULSE Video Switcher
Compatible with all major platforms including Facebook/YouTube/ZOOM

LIGHTING & LED
50x Variety of Spot/Profile/Illuminations
8m x 2.5m P4.8MM LED WALL

AUDIO
SHURE Lapel, Headsets, Handhelds
Musical Instruments
Midas M32 Digital Audio Board
TECHNICAL CREW
Sound Technician
Lighting Technician
Camera Operator
Technical Crew
all inclusive.
Reach your audience via variety of different existing
platforms including Facebook Live, YouTube Live,
ZOOM or our preferred Virtual Events Platform