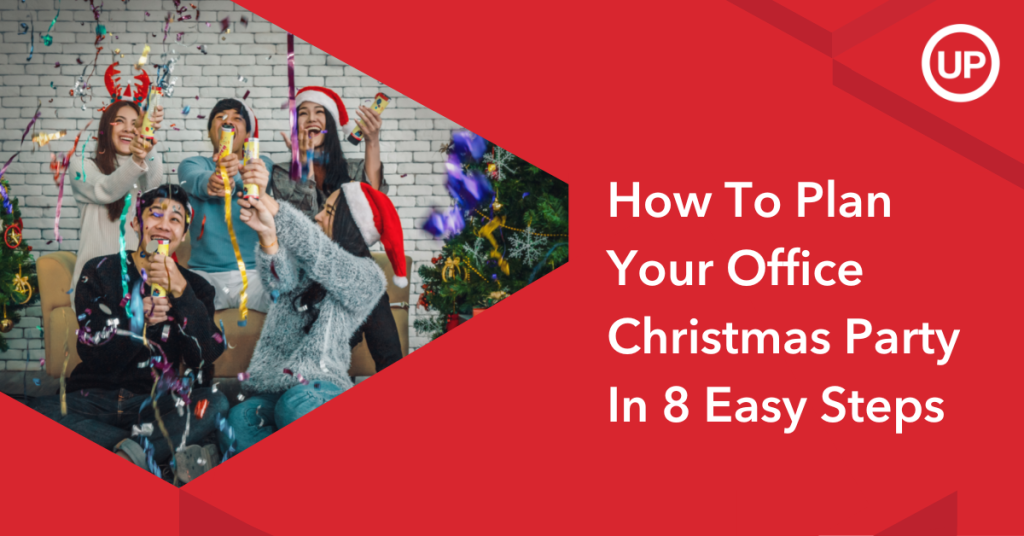 [GIVEAWAY!] Win a UP Office Christmas Party Experience Pack worth $500!
It's almost that time of the year again … when some of your colleagues clear their annual leaves. But not you. In fact, you've been chosen to lead the planning for the office Christmas party! What do you do? Where do you begin?
The good news is that we have a checklist that will guide you from start to end, so you don't miss out on any important detail. By the end of the party, you'll be leaving not only your colleagues but also management impressed.
Step #1. Put together your team
The undeniable truth to planning an office Christmas party – or any event, in fact – is that it's a team effort. In a large-scale event that we typically execute for our clients, there's no fewer than a dozen people behind it.
Thankfully, an office Christmas party isn't as hectic. However, there's still a number of key roles to fill.
Responsible for developing the theme of the office Christmas party and identifying the key visuals to help convey it
In charge of publicity, which entails sending out RSVP emails to the whole office and setting a reminder in the company calendar
Brings to life all aspects of visual communication, including collaterals and banners. He may also work with an animator to supply visual effects and motion graphics for the party
Helps to create seamless transitions between different segments of the office Christmas party and rallies guests to participate
Executes different cues at the right time and keeps the party moving like clockwork
Step #2. Map out your budget
a) Your venue
b) Props & decoration
c) Entertainment
d) F&B
You can shoot for the most amazing ideas, but they can quickly fall apart if you don't have the budget to pursue them. Your choice of venue, props and decoration, entertainment and F&B can all add to the cost of running your office Christmas party.
To ensure you keep to the allocated budget, make a list of items that you'll need for the party and estimate the maximum amount you're willing to spend on each item. We recommend leaving a budget surplus of 5-10% to account for hidden costs or surprises.
Once you've ascertained your budget for the venue, it's time to start looking for one. Holding your office Christmas party in the … office is of course a viable option, but don't forget other venues are just as perfect: hotels, function rooms, bars, clubs, cafes, restaurants – and even gardens and rooftops for a little outdoor fun!
Read more: 8 Must-Know Venue Hacks for An Event Held In a Hotel
Be sure to tour the venues in person instead of surveying them online, so you can take photos that will help you envision how your props and decoration fit.
It's also important to ask questions about the venue's infrastructure. Is the venue equipped with a sound system, microphones and adjustable lighting? If these pieces of equipment are not available at the venue, consider renting them from a vendor. They will be deciding factors on the type of entertainment you can pull off.
Your office Christmas party won't be complete without a theme. After all, that's the whole catch of a party. Luckily, you won't need to look far for inspiration. From iconic Christmas movies such as The Grinch, Frozen and Elf to popular Christmas symbols like the snowman, tinsels and mistletoe, everything is ripe for the picking.
While your props and decoration are going to be central in bringing your theme to life, you're also going to want to design the lighting and create a suitable music playlist to really immerse your guests in your office Christmas party.
As a bonus, get your guests to show up in costumes. Speaking of costumes …
Step #5. Design your programme
This is where a costume contest can really come in handy. It's a competitive and engaging activity that your guests can easily get behind – pretty much what you should be aiming for in your programme lineup. Think activities such as a song and dance, a Christmas trivia and a lucky draw.
If you have a more generous budget, don't rule out investing in a DJ, a band, a magician or a stand-up comedian. Regardless of how much you're willing to spend, there's always a comfortable mix of activities and performances that will make your office Christmas party memorable.
Read more: 5 Proven Ways To Turn Any Corporate Event Into A Memorable Experience
Amidst the fun, don't forget to capture all the picture-perfect moments with a photographer or videographer (or both)! These can be compiled into an event highlight album or video that's then sent to every guest as a keepsake.
Step #6. Secure your emcee
There are two schools of thoughts here. One may argue that any of your colleagues can double up as an emcee, while the other camp thinks the role of an emcee is best left to a professional.
Either way, an emcee introduces and concludes each activity or performance, provides commentary and cracks jokes. All these help to create a more coherent programme, lighten the mood and engage your guests.
To this end, both your colleague and a professional fit the role of an emcee. The former understands the company's culture and is more relatable, while the latter is trained to carry the programme with quick thinking and plenty of dynamism.
Of course, engaging a professional emcee is going to cost. But if budget permits, letting both share the stage may give you the best results.
When it comes to F&B, you can always get an external caterer. But most venues offer in-house catering, which should be better value for money.

Once you've pinned down your choice of caterer, think about the type of F&B you want to serve. Is it going to be a multi-course meal, a buffet spread or just finger food? We're inclined to say that your budget will determine this, but the type of F&B you serve is also going to have a major impact on how your office Christmas party will actually look like.

For example, a multi-course meal will most likely restrict your guests to large tables that leave little room for anything else, making it ideal for a programme that's more focused on performances. On the other hand, a buffet spread encourages your guests to mingle and sets the mood for more activities.

If you're planning for a casual office Christmas party for a smaller crowd, then finger food will probably be your go-to option. You can even get your guests to contribute different dishes like at a potluck.

No matter which type of F&B you end up serving, be sure to account for any special dietary need your guests may have. This will help you plan for a flexible menu that has alternative choices for guests who perhaps are unable to take beef products or are lactose intolerant.
Step #8. Tell everyone about your office Christmas party
Ideally, that should happen 1-2 weeks before the party. If it's any earlier, your guests may forget about your office Christmas party. If it's any later, they may not have enough runway to reschedule their appointments.
Since it's an office event, the best way to disseminate information about it is via email. Be sure to include all the important details such as the date and time, the location, the dress code and how to get there. If the programme is ready, you may also send it out in the email to get your guests excited.

We recommend saving these details in your company's calendar too. This way, you'll be able to have a quick overview of who's going and who's not, along with the ability to allow your guests to set automated reminders for the party.
Need more help in planning your office Christmas party? Our Experience Managers are on hand to help plan and manage your office Christmas party every step of the way.
Book a complimentary consultation or contact us at +65 6242 8032 (Call).
Our dedicated event venues

Win a UP Office Christmas Party Experience Pack worth $500!
Win a UP Office Christmas Party Experience Pack worth $500!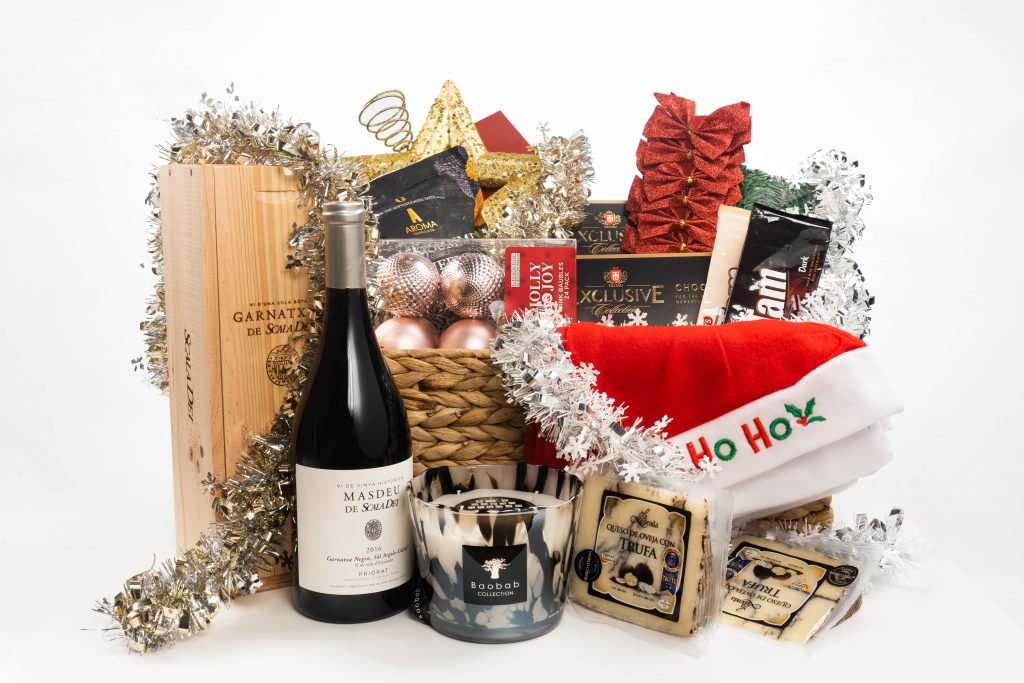 Kick-start your planning for your office Christmas party with the UP Office Christmas Party Experience Pack, featuring a collection of festive goodies handpicked by our team. Simply complete the survey below for your chance to win!
Terms & conditions
– Contest ends at 11.59pm on 30 Nov 23. The winner will be notified via email on 2 Dec 23.
– Only one entry is allowed per person, but multiple entries from the same organisation are allowed.
– Each entry must be made with corporate emails; entries with personal emails will be disqualified.
– Should the winner be uncontactable, we reserve the right to award the prize to another participant.
– The prize is strictly not exchangeable for cash.