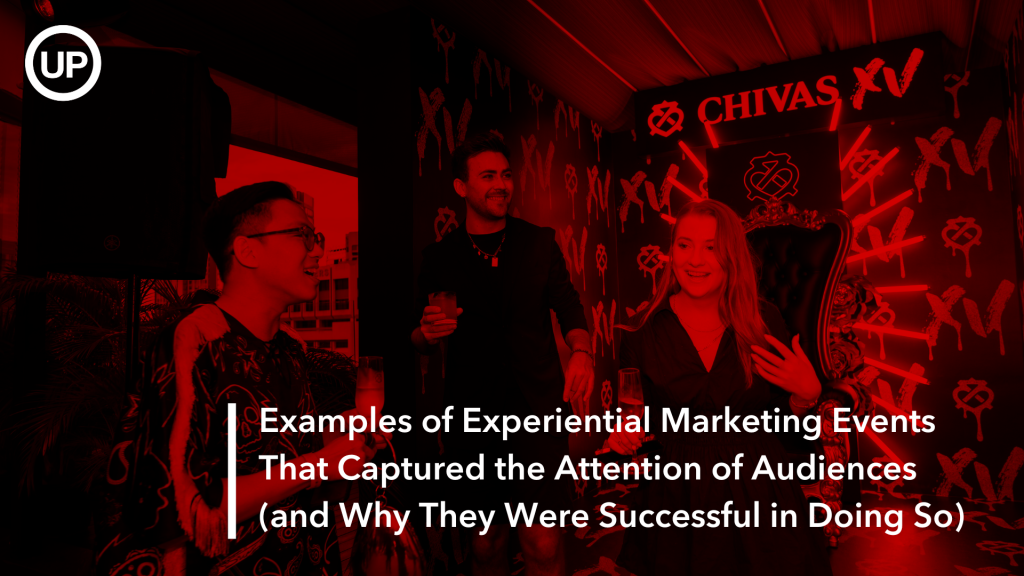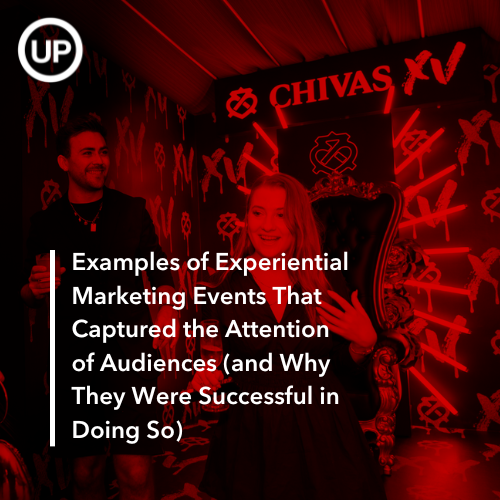 Think about the number of times you wanted to skip an ad. Or perhaps you've installed an ad blocker to keep ads from invading your screen. Even as consumers are devouring content online, they have made it clear that they are not keen to sit through an ad.
So how do you catch the attention of your audiences? According to Forbes, the answer lies in experiential marketing.
What is experiential marketing?
Experiential marketing is a type of marketing that invites audiences to participate in an experience. This experience can take the form of a product launch, a roadshow, a pop-up event, a festival or a placemaking effort – each strategically curated to spotlight your brand through interactive touch points and engage audiences.
Why is experiential marketing important?
It's no surprise audiences enjoy being part of an experience. By tailoring your marketing efforts around them as opposed to demanding for their attention, you're more likely to be able to connect with them. This allows you to cultivate greater brand awareness among prospects and reinforce brand loyalty in customers.
Examples of successful experiential marketing events
Nearing the year-end holiday season in 2021, Lazada was appointed as the official e-commerce partner of Orchard Road. It decided to follow up on this with a pop-up store in the heart of the shopping district. Apart from attracting shoppers who were looking for Christmas gifts, the goal was to showcase and build awareness of its LazMall and LazMall Prestige channels, which promise to carry only authentic merchandise.
Working off a pair of containers, we first focused on how we could transform the pop-up store into two giant, eye-catching gift boxes to match the holiday theme. The centrepiece, however, was a larger-than-life representation of Lazada's iconic 'heart gram' logo, complete with a custom-programmed LED wall for the perfect social media snapshot. In addition, we installed a mystery-prize vending machine that was designed to work seamlessly with the Lazada app.
Inside, shoppers were treated to a selection of more than 80 unique holiday-inspired gift sets and limited-edition merchandise from over 20 brands, including Muji, Lego, Bang & Olufsen and Estée Lauder. Each product was accompanied by a QR code that led shoppers to its listing on LazMall or LazMall Prestige, where they could purchase it and have it delivered.
earned in media coverage from the likes of The Straits Times, CNA, HardwareZone and many more
hours' worth of attention captured from shoppers on Orchard Road
shoppers who visited Lazada Festive Pop-Up
See full case study >>

Key takeaways for marketers
If you must interrupt your audiences, interrupt their attention, not their activities. The design of the pop-up store was enough to stop shoppers in their tracks, tickle their curiosity and convince them to voluntarily interact with it – they weren't asked to download an app, complete a survey or do anything that they didn't want to do.
Consider how an online extension might bolster the offline experience of your audiences by bringing tangible, real-world benefits to them. At the Lazada Festive Pop-Up, we merged the immediacy of offline shopping with the convenience of online shopping.
2. Orchard Road: Great Christmas Village
After a 2-year hiatus, the Great Christmas Village returned to the Ngee Ann City Civic Plaza from 7 Dec 2022 – 2 Jan 2023. The annual festive fair boasts live music performances, carnival rides, a retail section and plenty of food and drink options.
But this time, it was far from the only Christmas-themed event people could enjoy with their families and friends. Across Singapore, event organisers were eager to capitalise on the pent-up demand for large-scale social experiences.
The Great Christmas Village delivered in spades – we packed its calendar with 20 unique local acts, who performed live across four weekends. By the time the curtain closed, the event had drawn over 220,000 people. It was indeed quite the attraction.
earned in media coverage from the likes of The Straits Times, CNA, mothership.sg and many more
people thronged the Great Christmas Village across all 27 days
Key takeaways for marketers
Figure out the impact you want your brand to really leave on audiences and build your event experience around it. From the get-go, we recognised that – more than just a celebration of Christmas – the Great Christmas Village was a celebration of the victory against the pandemic and of those who braved it.
Bigger isn't always better. Instead of creating Christmas art installations that aim for the sky or experimenting with offbeat concepts, we partnered with both well-known and undiscovered local acts to develop the Great Christmas Village as a platform for them to showcase their work. This way, audiences could bond over a meaningful cause.
The Chivas Regal range of blended scotch whiskey had been perceived as a mature drink. To signal a departure from this image, it appointed Lisa – a member of popular K-pop band Blackpink – as its ambassador in 2022. The goal was to promote Chivas Regal as a drink of choice for younger adults who are chasing their dreams and celebrating their successes in life.
To further drive home its new image as a celebratory drink, Chivas Regal challenged us to design a party befitting it. Held on the dreamy rooftop pool of voco Orchard Singapore, the party was unapologetically extravagant. Highlights included a 2.4m-tall throne that made its guest the centre of attention and a performance by drag queen @itscharlotterays, complete with SpectaSparks.
The closed-door party was attended by a total of 200 guests, with nightlife business owners and celebrities such as Shigga Shay, Jade Rasif and Dew Francis among the invitees.
Key takeaways for marketers
Not every experiential marketing event is built around selling a product or service. At times, the objective is to boost brand equity. A stronger brand equity can help to drive increased sales to the right audience in the longer term.
Find the balance between your allocated event budget and what you hope to achieve with it. For example, extending the Chivas Regal XV Party to the public would have been less feasible. Instead, we focused on delivering a high-impact event experience to key stakeholders, who could leverage their influence to amplify the results of the event.
4. moomoo 'Have A Kopi On moo Daily' Roadshows
moomoo, a brokerage app, had just launched Cash Plus in Singapore in 2022. The new product is aimed at new investors and those who prioritise safe returns on their investments. However, other brokerage apps had already debuted similar investment products, so moomoo was wading into a battle over jaded audiences.
To encourage audiences to try Cash Plus, moomoo ran an introductory offer that saw the brand give out $2 every day for 30 days to users who had invested and held onto at least $100 in their Cash Plus accounts for the same period of time.
The offer was stylised as 'Have A Kopi On moo daily' and rolled out at roadshows that ran across NEX, Waterway Point and Century Square for a week. True to its word, audiences who had downloaded the moomoo app and deposited at least $100 in their Cash Plus accounts could redeem a complimentary cup of kopi at the roadshows.
There were also meet-and-greet opportunities with moomoo's mascot, moo, and an activity corner with colouring pages printed with moo's pictures. That's not all – though. Along with moo merchandise, audiences could enjoy popular childhood snacks such as Apollo Wafer Sticks, Chicken Rings and Pola Snacks.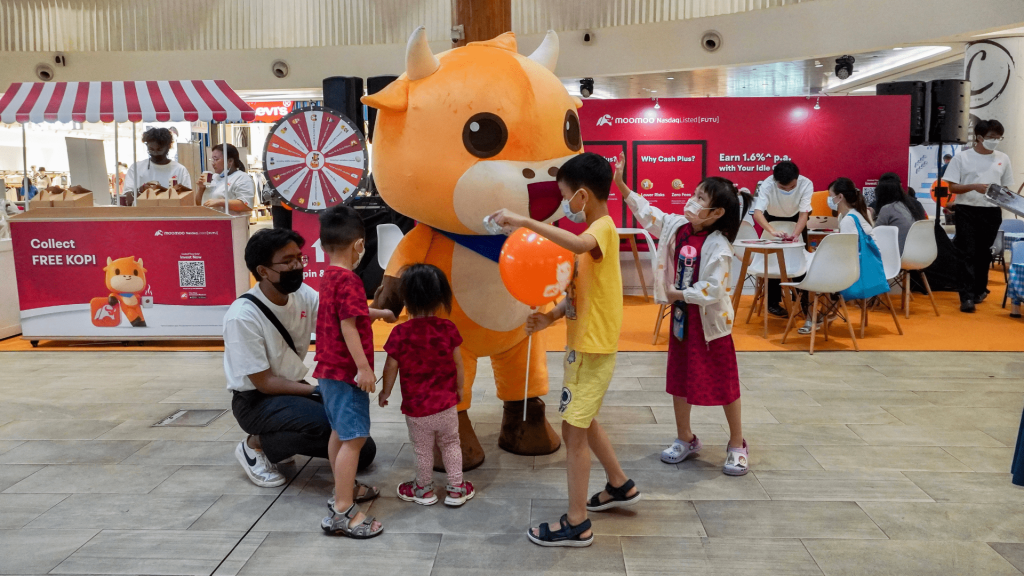 hours' worth of attention captured from heartlanders at NEX, Waterway Point and Century Square
visitors took part in moomoo's 'Have A Kopi On moo Daily' roadshows
Key takeaways for marketers
If you're targeting a local audience, don't shy away from embracing an equally local flavour. In the example above, we knew that moomoo wanted to appeal to heartlanders, so we crafted an experiential marketing event that would feel familiar to them.
Likewise, if you already know where your audiences are based, try meeting them at where they are. This helps you create an organic event experience – helpful if you want to share more in-depth information about your brand, product or service.
Don't pass up the chance to engage the people around your target audiences. We designed various family-friendly activities to keep the kids busy and afford a conducive space for us to share more about Cash Plus with their parents.
After a 3-year hiatus, Artbox made a highly anticipated return. But unlike previous iterations, which were held outdoors at Bayfront Event Space and the Singapore Turf Club, Artbox 2023 happened across two weekends (24-26 Feb 23 & 3-5 Mar 23) at Hall 6 of the Singapore Expo. It was the first-ever Artbox to be held indoors.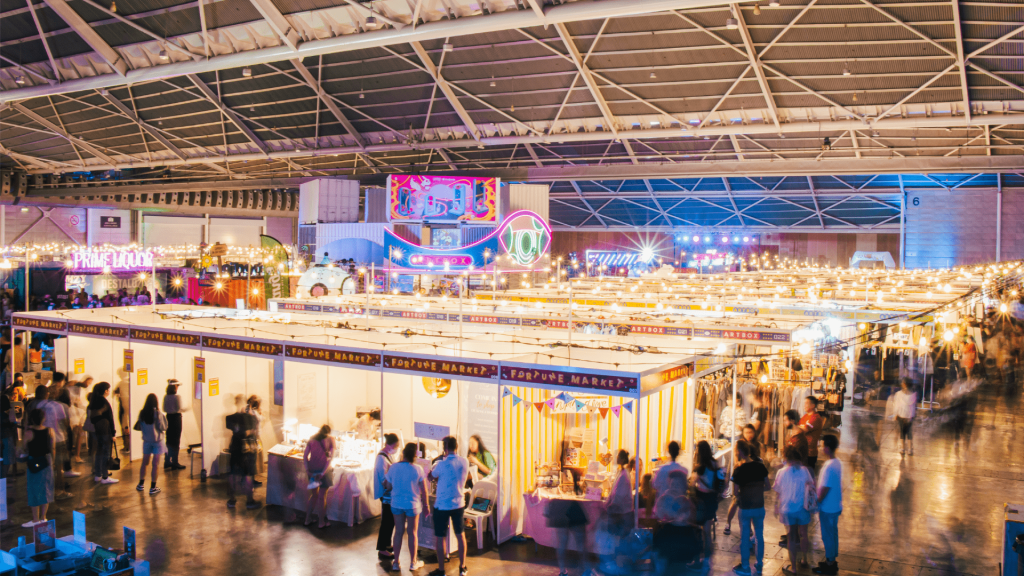 This radical move enabled the organiser, Invade, to pursue new opportunities at Artbox 2023. Among which was the freedom to simulate night-time throughout the day, allowing Invade to pay homage to Artbox's origin as a night market in Bangkok and showcase the pop-up market's psychedelic look.
The move also unshackled Artbox 2023 from costly weather-resilient infrastructure. In turn, it could be fully focused on being a creative platform for emerging entrepreneurs, independent artists and creators, backed by thoughtful content and immersive programming.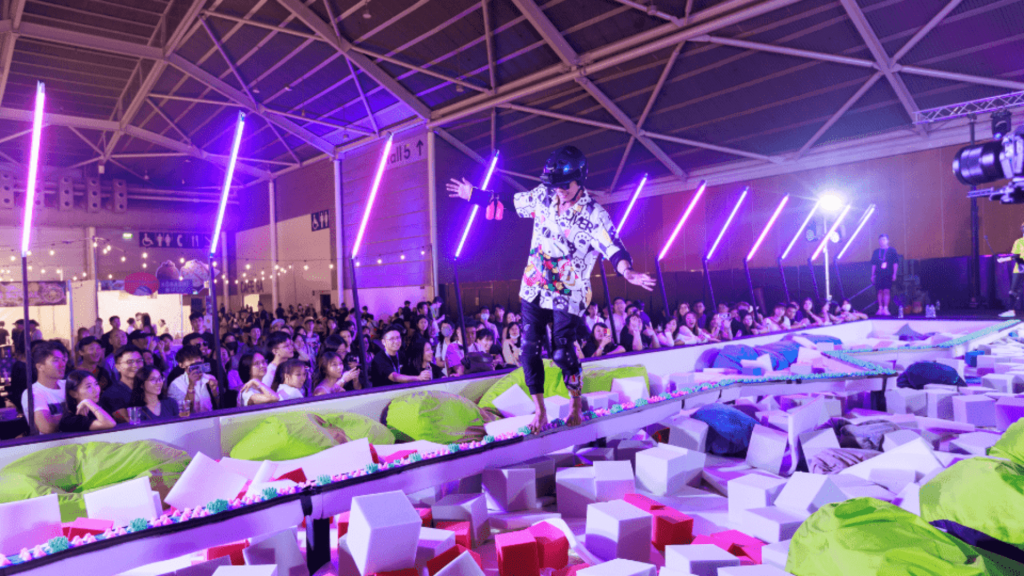 Leveraging our extensive event production capabilities, we were able to design an innovative dual-stage setup. The main stage – armed with a high-res P2.5mm LED video wall – burst to life with rich, dynamic content to accompany the live stage performances, while strategically placed loudspeakers delivered filled the space with clear, detailed audio.
On the other side of the hall, we created a custom stage for local comedy platform SGAG. The stage hosted SGAG's 'Beam of Pain' challenge, complete with carefully planned lighting design that kept pace with the frenetic pace of the unfolding action and left audiences on the edge. 
visitors thronged Artbox 2023 across two weekends
media mentions and coverage achieved
Key takeaways for marketers
If you're iterating on a cyclical experiential marketing event, thinking out of the box as opposed to simply creating a larger-format event may reward you with new opportunities to attract more visitors.
Cutting-edge event technology is one of your greatest allies in bringing your programme to life. Coupled with technical expertise, the latest event technologies can help you dictate the mood and pace of your event. At Artbox 2023, both joined forces to bolster an action-packed programme and create a more immersive event experience.
An experiential marketing event, whether it's a product launch, a roadshow, a pop-up event, a festival or a placemaking effort, allows you to interact with your audiences in truly unique and impactful ways. But which type of event experience should you create? What do you want your audiences to feel? Most importantly, what kind of action do you want them to take?
We work with you to discover your audiences and map out the touch points that your event experience will be built around. Above all, your experiential marketing event will be crafted as an extension of your brand's and your audiences' values and ethos.
New to Unearthed Productions?
Get in touch with us and get ideas for your next experiential marketing event.



Reconnect with your Experience Manager to brainstorm your experiential marketing event strategy for 2023.
Our Venue Partners
Engage Theatres @ Suntec Singapore | NTUC Centre | Pan Pacific Singapore | Carlton Hotel Singapore | PARKROYAL on Beach Road