Making personal finance fun and accessible for all

Making personal finance fun and accessible for all

Seedly is a community platform centred around personal finance. Users can learn more about and take part in discussions on credit cards, saving accounts, insurance policies and bank loans among other topics. It's behind Seedly Personal Finance Festival, where dozens of thought leaders from the sector converge to share their knowledge and insights on personal finance.
Creativity meets event production expertise in our efforts to bring Singapore's largest personal finance festival to life
Seedly Personal Finance Festival 2023 was the fourth edition of Seedly's flagship event and its biggest yet. Staged at Suntec Singapore Convention & Exhibition Centre on 15 Apr 23, the event spanned two halls or 3,890 sqm – larger than three Olympic-size swimming pools put together!
This massive space housed three distinct zones, each corroborating with Seedly's aim to distill the niche topics of personal finance into more accessible packs of information through fun, games and bite-size dialogues.
Let's look behind the scenes at how we contributed to the successful execution of all three zones.
We conceptualised and designed the exhibition booths of major exhibitors
We ensured that each exhibition booth was built on schedule and set up according to venue guidelines
We fitted the main stage with a 45m-long P2.5mm LED video wall and concert-grade line-array speakers
We adopted a holistic approach to event production to ensure the main conference ran smoothly
We pushed the boundaries of traditional stage presentations on the side stage with a uniquely configured LED video wall
We supported the side stage with a dedicated production team
Themed to look like an arcade, the activity zone boasted a total of 17 exhibition booths. In particular, companies such as DBS Bank, CMC Markets, Singlife, Chocolate Finance and GXS commanded exhibition booths as large as 18 sqm each, capturing the attention of visitors with towering facades and even more eye-catching games.
As a platinum sponsor of the event, DBS Bank had one of the three joint largest presences in the activity zone. In designing its exhibition booth, we first looked at the most popular games in the arcade and discovered that players are queuing to beat the high scores at basketball. Armed with a variety of chimes and jingles, the game also leans heavily into positive reinforcement to draw a crowd. By likening the high scores to saving goals, we were able to help DBS Bank more easily communicate the importance of saving to visitors.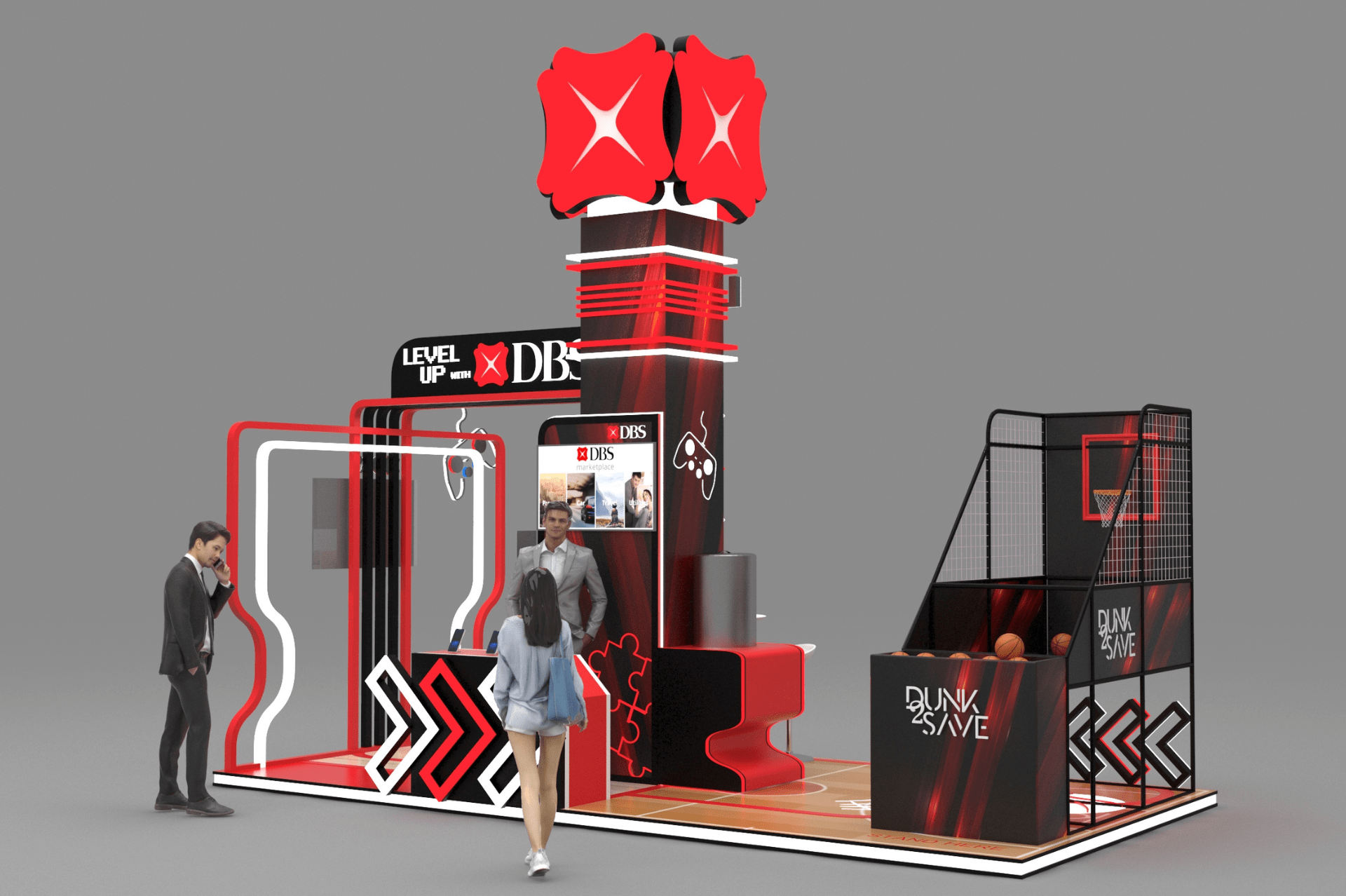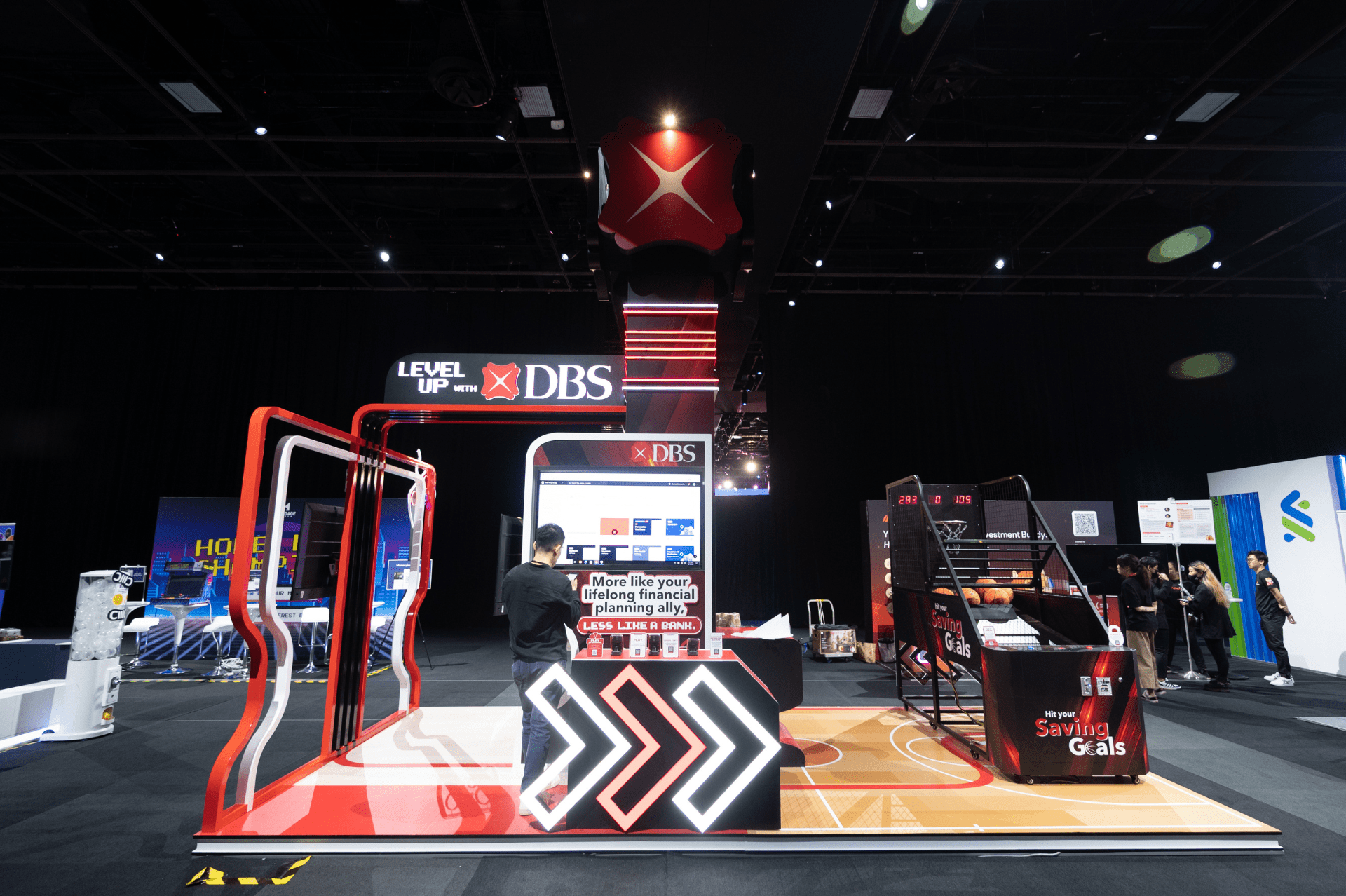 CMC Markets, another platinum sponsor, also secured a sizeable space in the activity zone. Wanting to promote its investment products, CMC Markets challenged us to create a space that invited visitors to learn more about its products from its consultants. Banking on Tetris, we built CMC Markets' exhibition booth around the arcade game's iconic blocks. "Booths are usually surrounded by walls, which discourage people from entering. By arranging the Tetris blocks strategically, we wanted to create a 'porous' booth that enticed people to explore its different pathways," Hazel Lim, Senior Event Experience Manager at Unearthed Productions, says.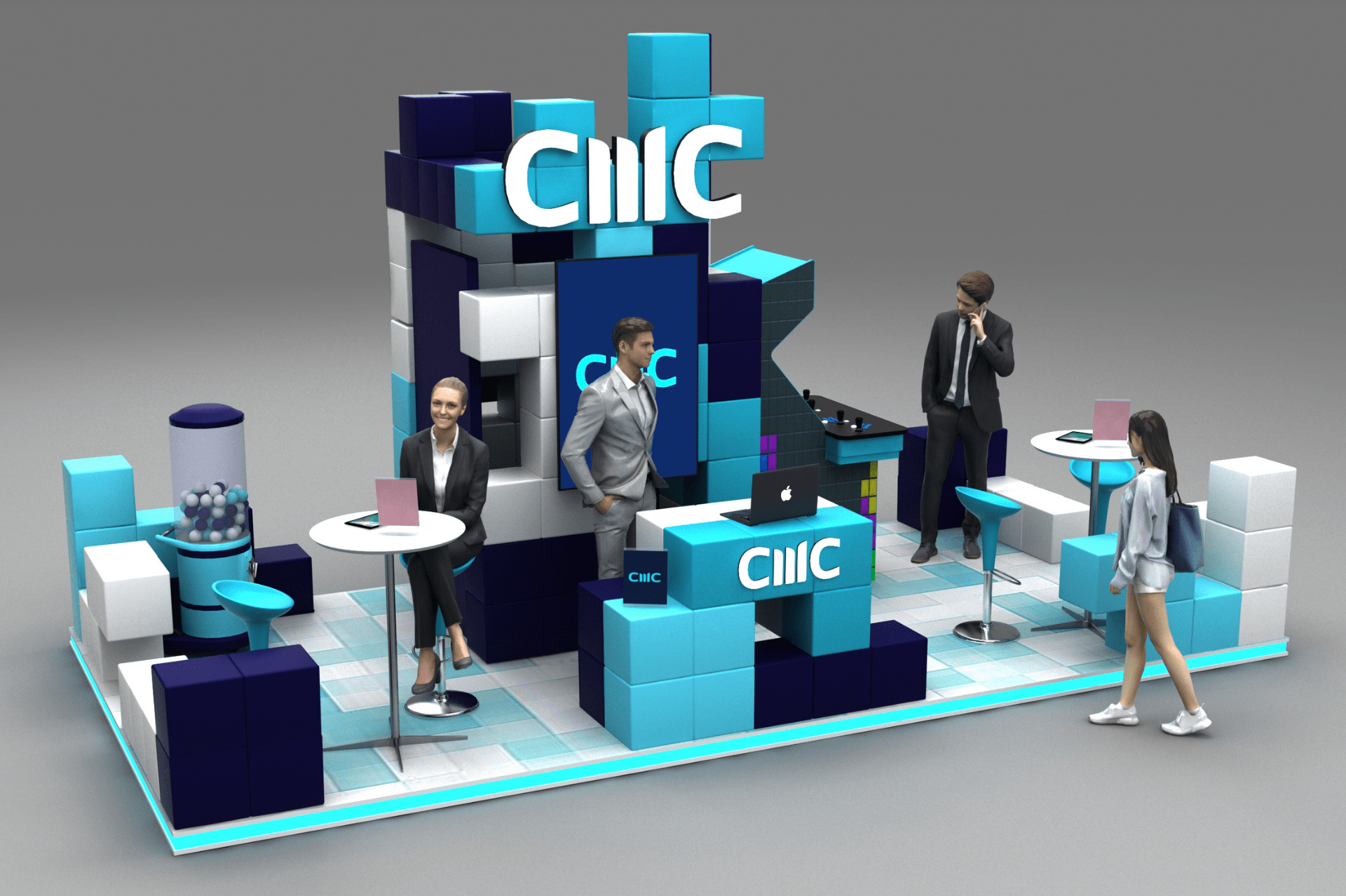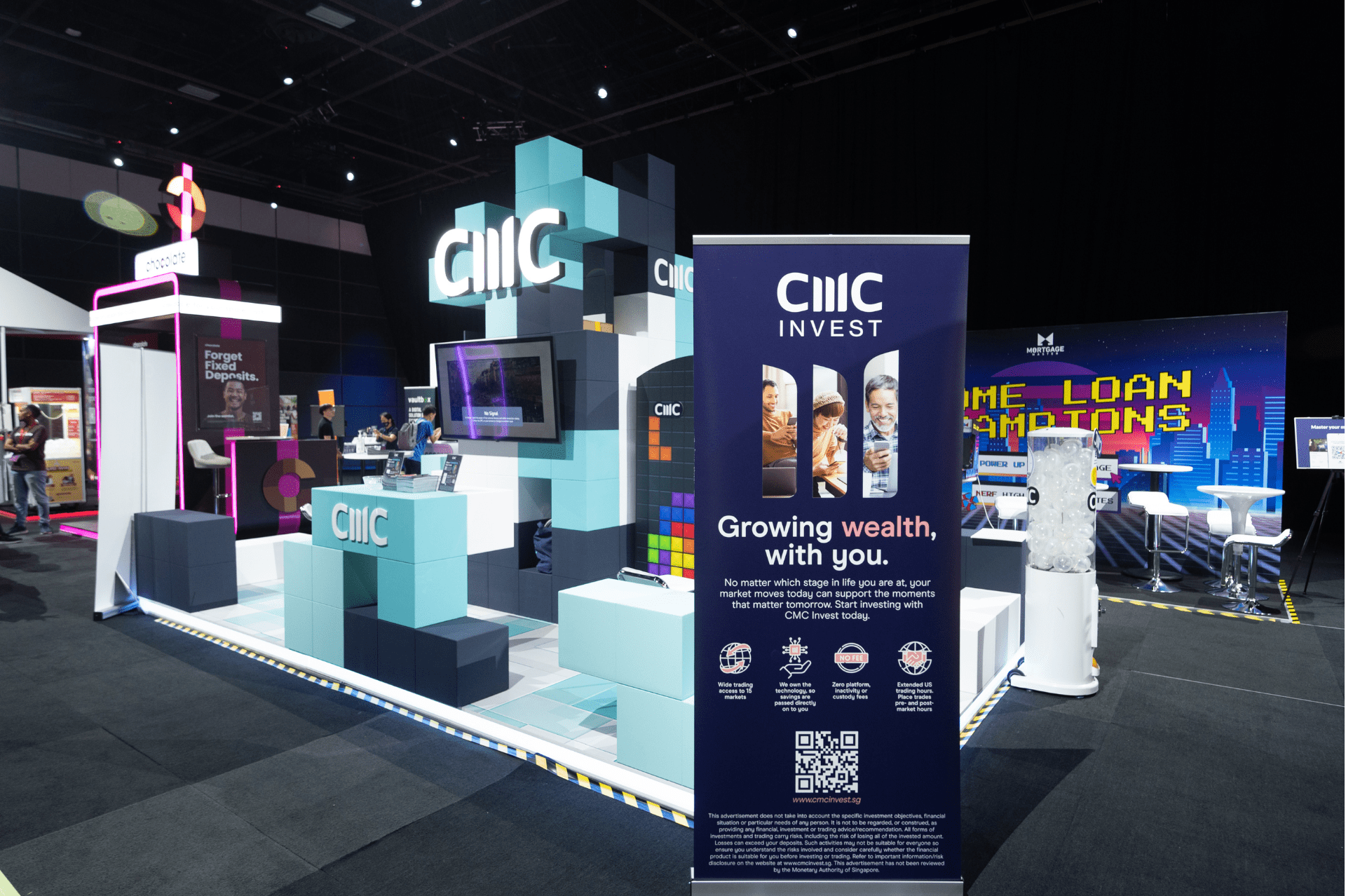 Chocolate Finance, a new brokerage app, is set to launch an investment product that prioritises safe returns in the second half of 2023. Targeting young families and those who have just started their careers, Chocolate Finance wanted an exhibition booth that could quickly grab their attention and generate great fanfare. With just 8 sqm to pack a punch, we decided to create a space that was as kinetic as possible. This meant outfitting the exhibition booth with a rotating '₵' logo and a stock ticker-like LED strip. The highlight was a money box that put visitors right in the game.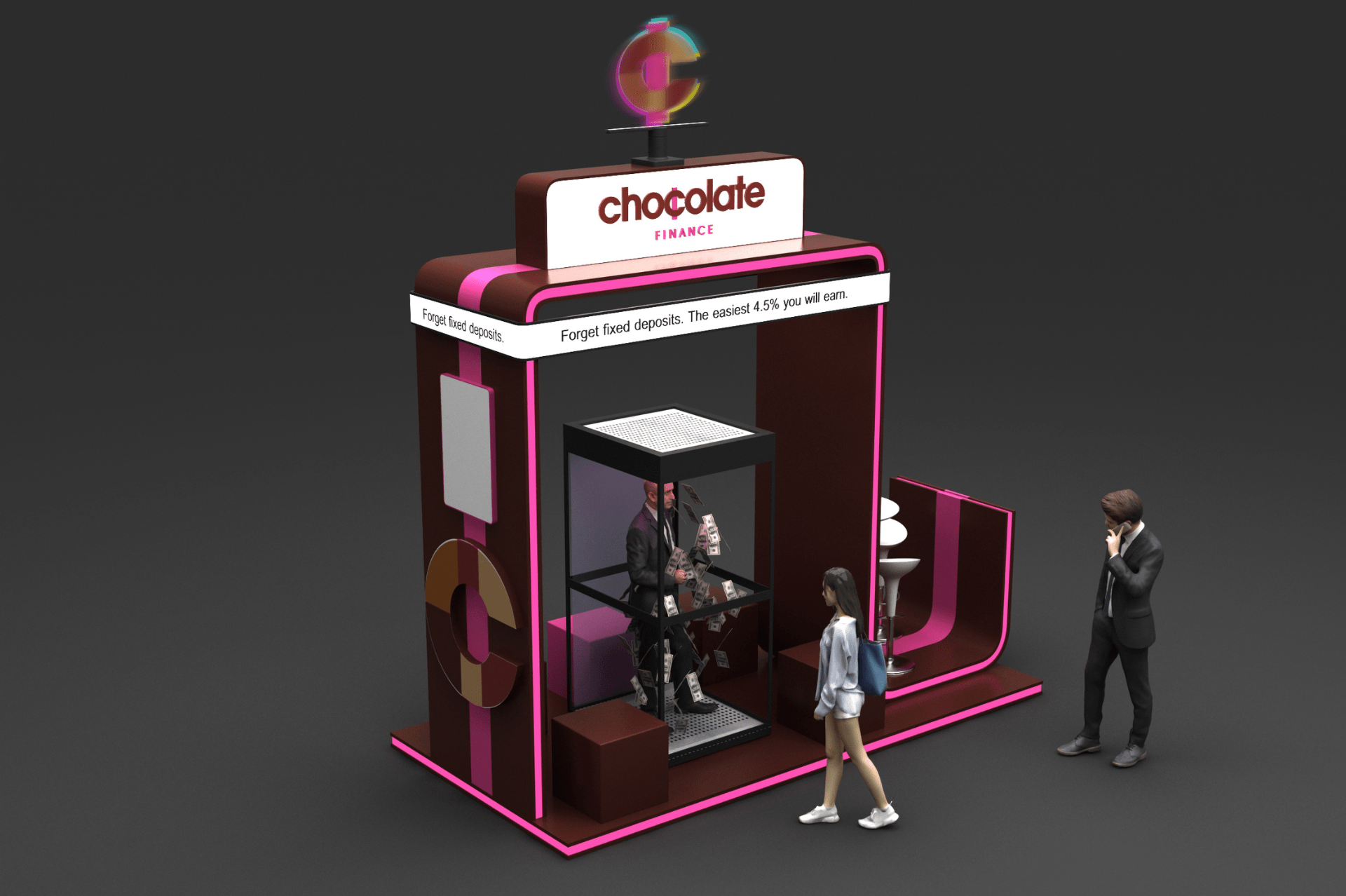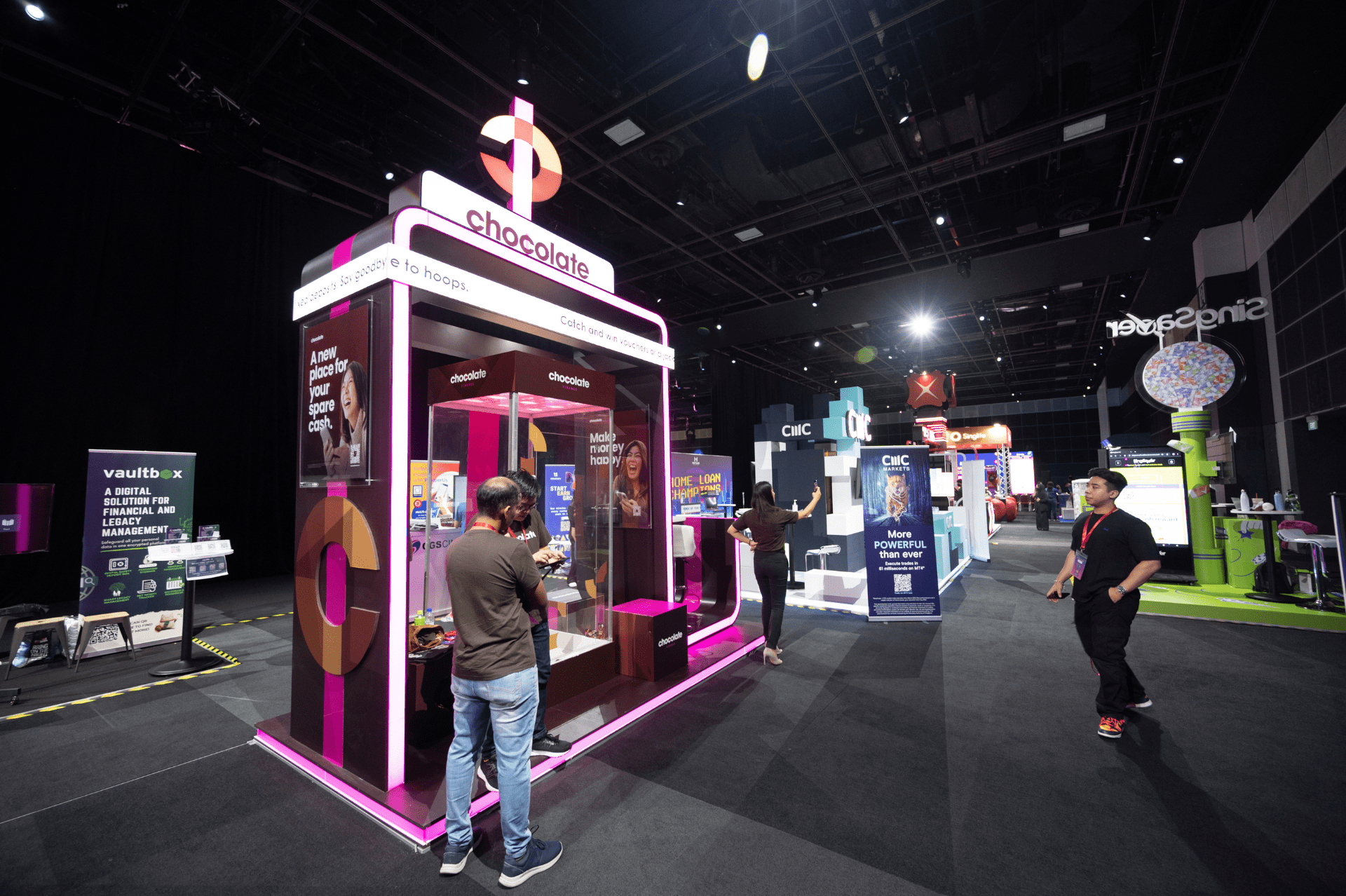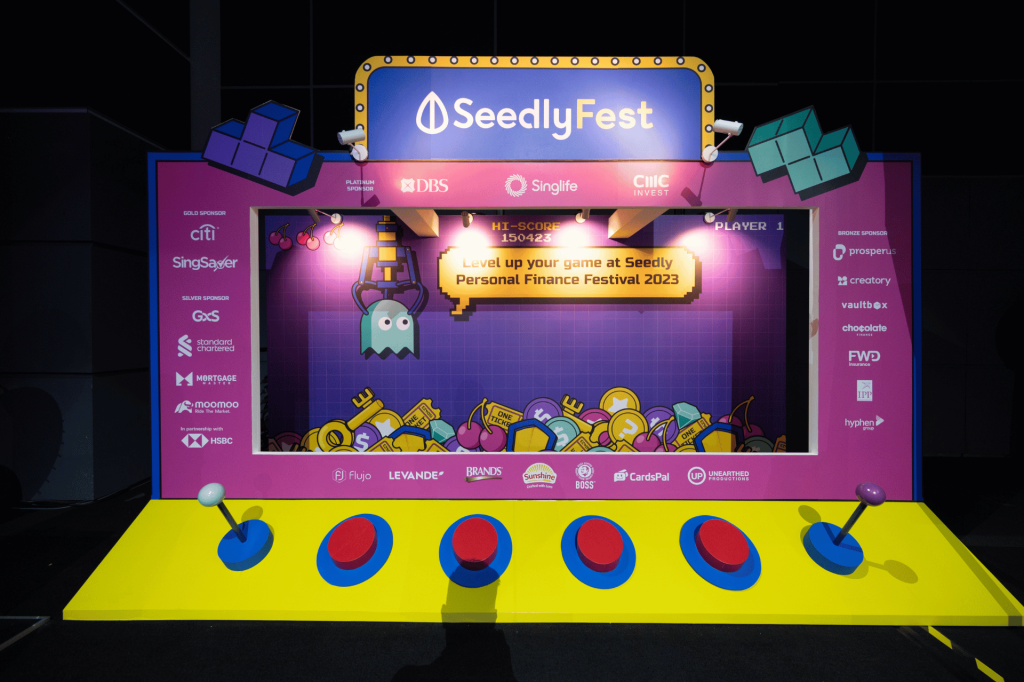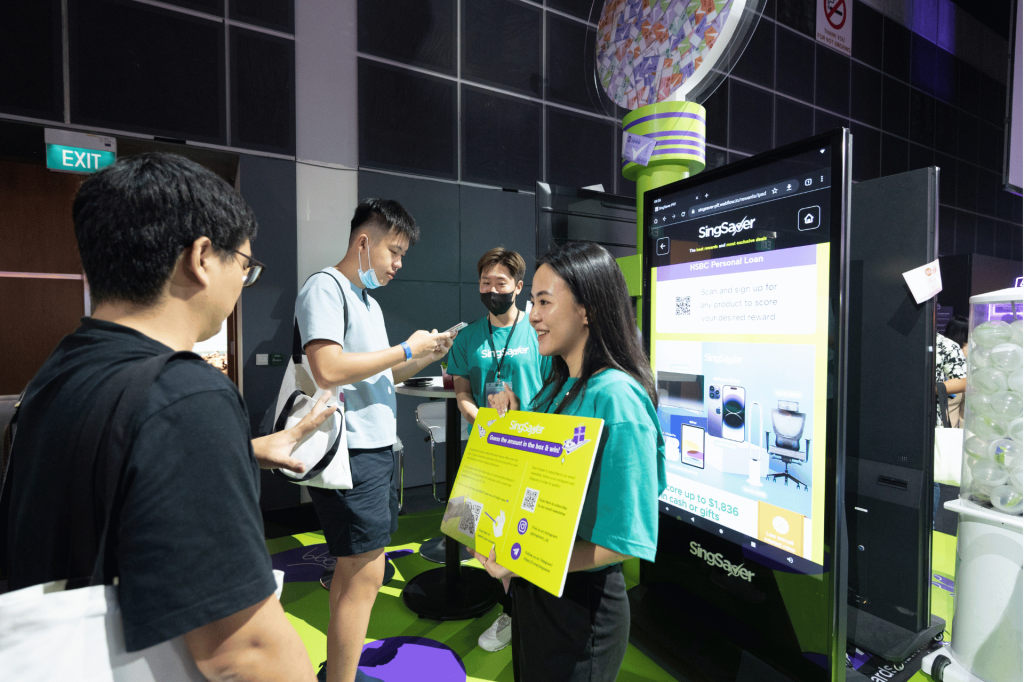 We also conceptualised and designed the SingSaver and Seedly exhibition booths, which drew audiences in with their larger-than-life backdrops. Combined with the provision of sound systems and interactive touch-screen signage TVs, we empowered the exhibitors to amplify their engagement with visitors.
With just a month to build the exhibition booths, we were in a race against time. Collaborating with multiple carpenters allowed us to distribute the work more evenly, mitigate the risk of disruption and preserve good craftsmanship.
In addition, we had to keep an eye on the weight of each exhibition booth. Working in close consultation with Suntec Singapore Convention & Exhibition Centre, we designed and integrated extra support into the bases of select exhibition booths to prevent damage to the carpets in the event halls.
If you were to look at the entire event venue, it's an arcade theme – exactly what we wanted it to be … I think our experience working with Unearthed Productions is that they were alongside us all this while. In fact, last night, they were actually a great help in terms of the setup. (They are) really a great partner to all of us for this event, and we are really really appreciative of it.

Yeap Ming Feng
Head, Seedly

Tickets to the main conference sold out within a week, making it the most anticipated highlight of Seedly Personal Finance Festival 2023. This wasn't a surprise, given that it was anchored by over 8 hours of keynotes, panels and fireside chats. The most notable guest was Minister of Health Ong Ye Kung, who opened the conference with an outlook on Singapore's economy.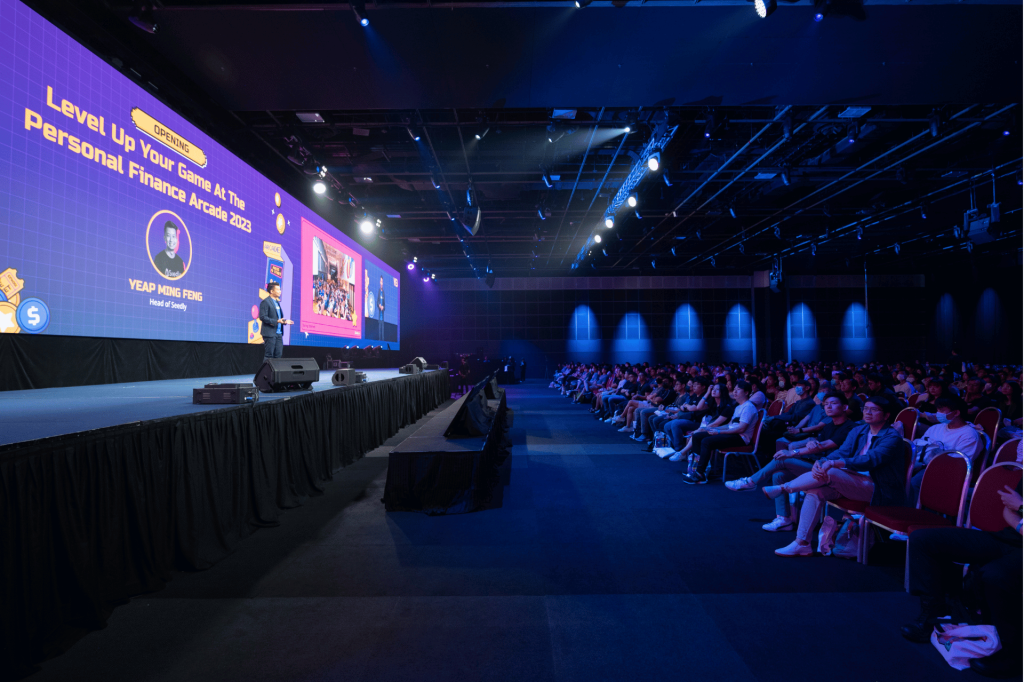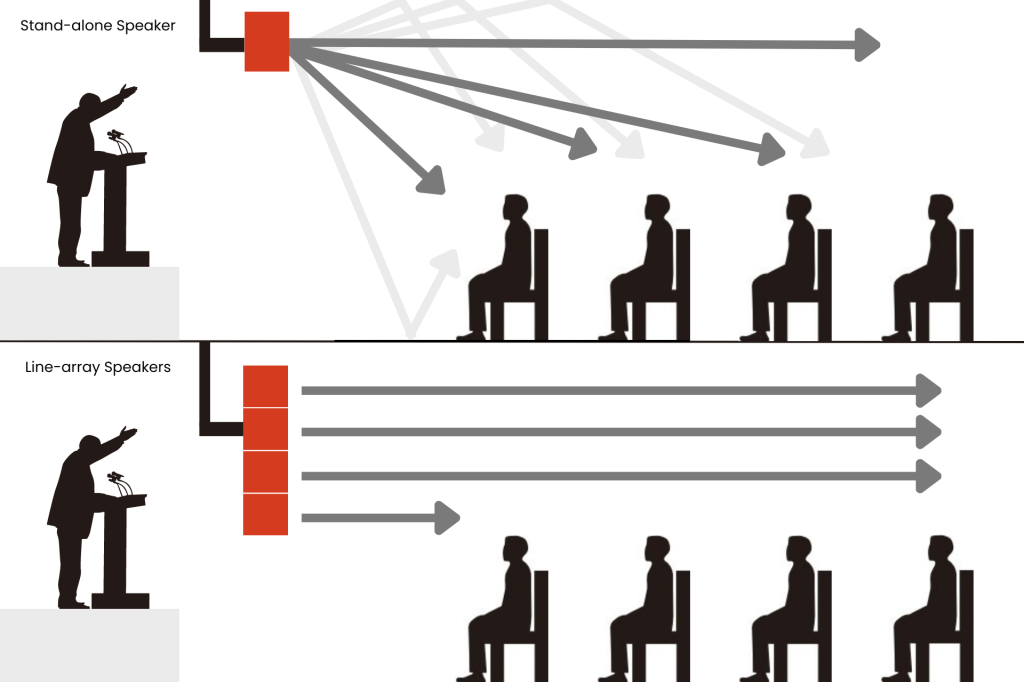 The main conference was run on a scale never seen before at Seedly Personal Finance Festival, calling for a bevy of AV solutions capable of delivering rich content to a 3,000-strong audience while remaining faithful to a high quality of output.
That was why we chose to unfold the main conference against a sweeping 45m-long P2.5mm LED video wall, which stretched nearly the width of the two event halls. In addition to providing the speakers on stage with unmatched real estate for their slides, media and other visual assets, our LED video wall packs millions of pixels to reproduce the shared content at its original fidelity.
We also outfitted the stage with concert-grade line-array speakers. In a line-array system, multiple same speaker units are arranged vertically to push sound across a room. Compared to a stand-alone speaker, line-array speakers are able to distribute sound more evenly. They were vital in preventing front-row audiences from being confronted by excessively loud sound while ensuring those seated at the rear could hear what was happening on the stage just as clearly.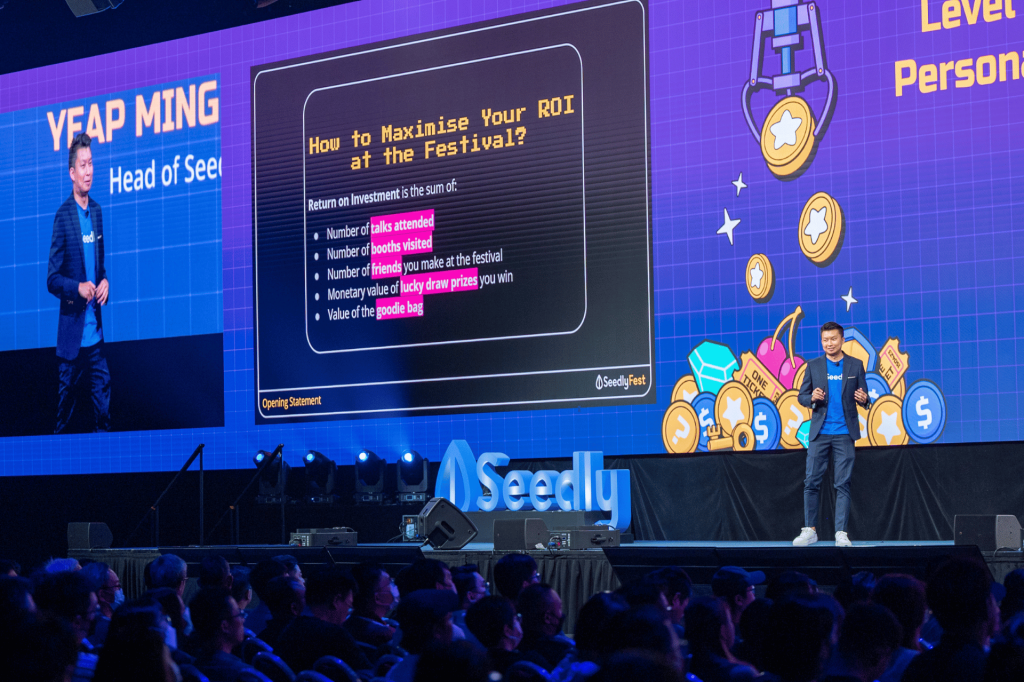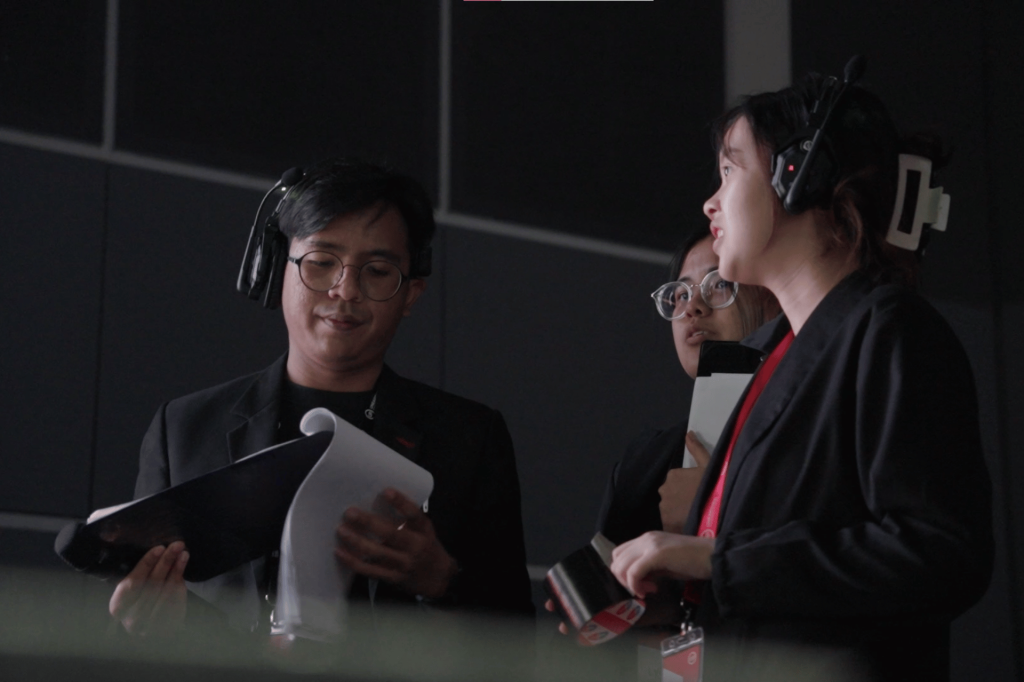 Having managed both the second and third editions of Seedly Personal Finance Festival, we had collected a deep understanding of what was essential to the seamless execution of the main conference.
Even then, we had to rethink how we could best interpret the content of each dialogue for the audience. Whereas speakers at the past two editions of Seedly Personal Finance Festival spoke to a virtual audience and could only 'screen share', the speakers at Seedly Personal Finance Festival 2023 had a vast LED video wall. This allowed us to work with each speaker to develop more creative and dynamic stage presentations.
The success of the conference relied equally as much on expert coordination between our various on-site teams, which were catered in-house. They included a show caller, a stage manager and AV specialists with years of collaborative experience, ensuring that we could respond to any adjustment in the agenda on the fly. This was especially integral in keeping up with the brisk pace of the conference.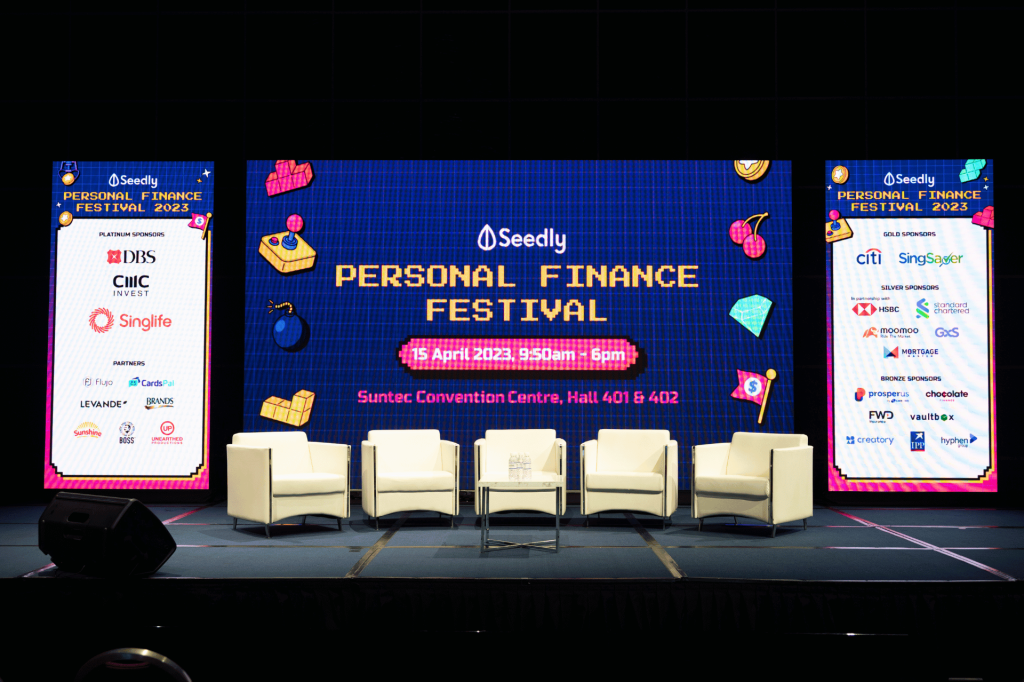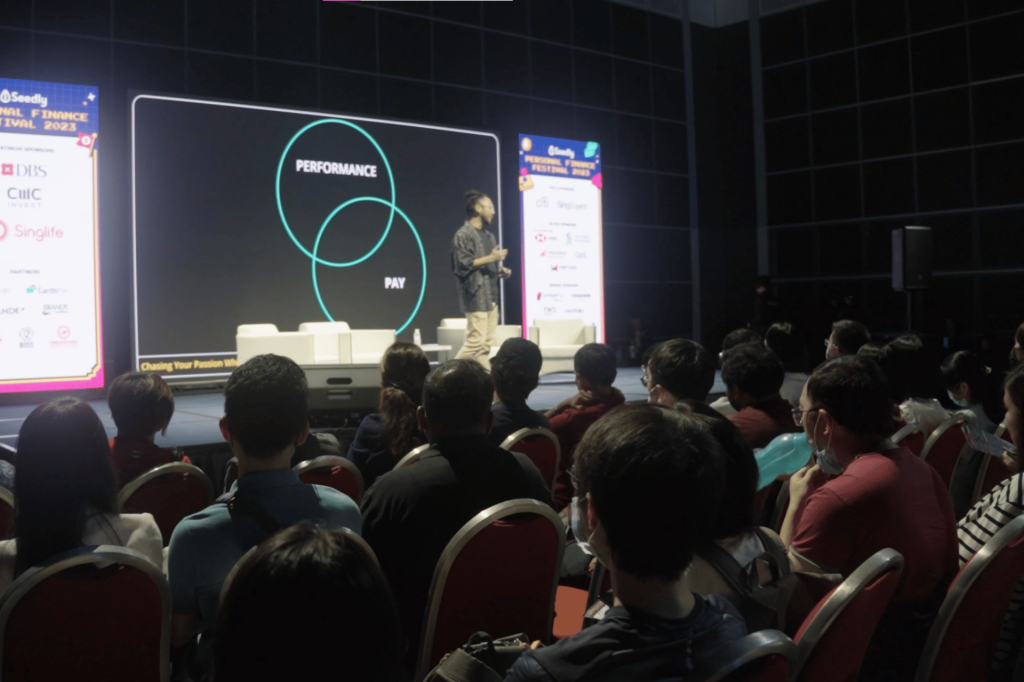 Unlike the main stage, the side stage was a non-ticketed attraction. It featured a smaller stage with seats for fewer people, but visitors were hard-pressed to overlook the content on offer here: simulcasts from the main stage, together with its own lineup of keynotes and panels. All in all, the side stage treated visitors to over 6 hours of original content.
As part of a larger commitment to Seedly Personal Finance Festival 2023, we fitted the side stage with a P2.5mm LED video wall – the same one used on the main stage, albeit smaller and configured as a unique 2+1 screen. Using advanced video processing capabilities, we were able to bring multi- and split-screen support to stage presentations.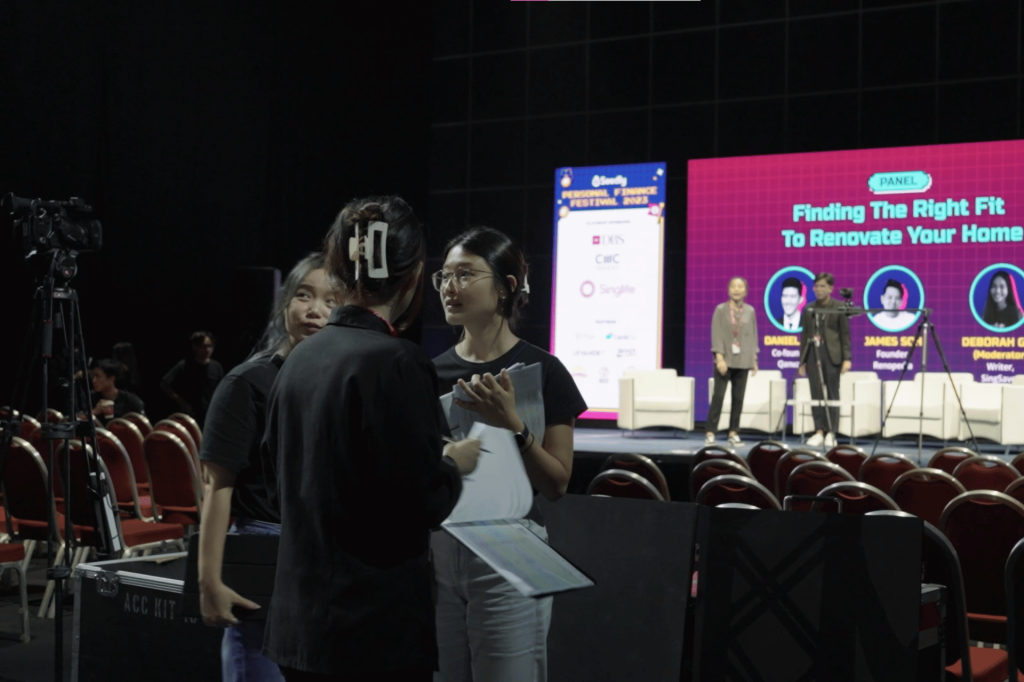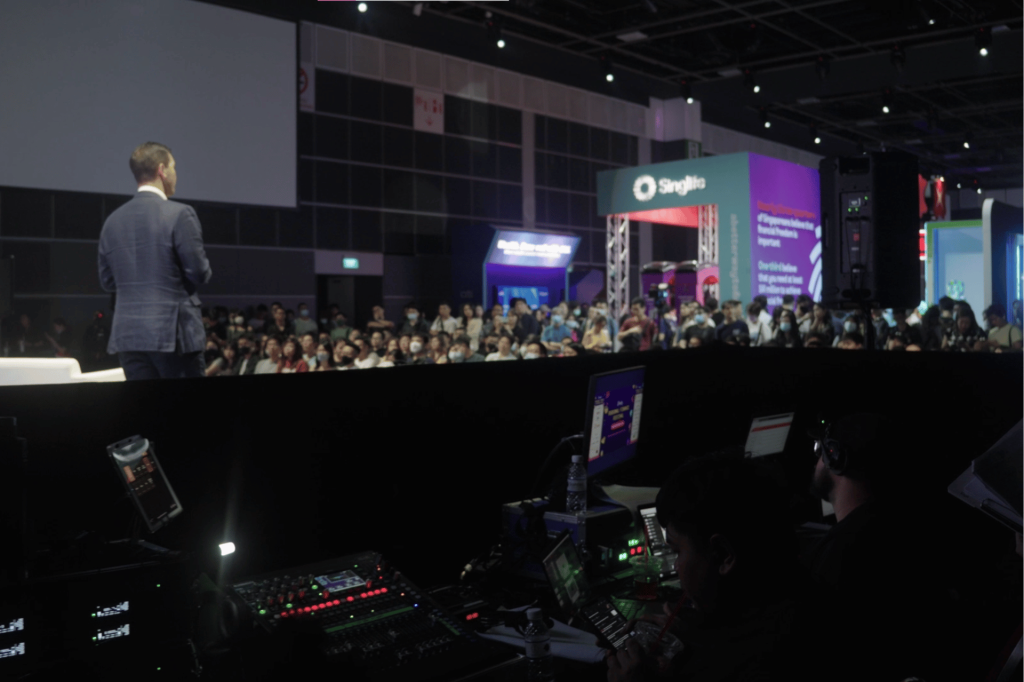 As the side stage had its own programme, we entrusted it to a dedicated production team, which was also catered in-house. In addition to providing vital backstage support to the emcee and the speakers and helping them to navigate the stage, the team was responsible for lining up different cues and ensuring the conference stayed on track.


Tech in Asia Conference 2022
How Tech in Asia curated its conference programme and delivered the right value to the right audience
How Koelnmesse empowered leaders of the video game industry to share their knowledge with the world and set a new benchmark for MICE events
Create your next event experience with us today
We can't wait to connect and bring your unique vision to life.