How Invade empowered emerging entrepreneurs, independent artists and creators to connect more effectively with their audiences at Artbox 2023
How Invade empowered emerging entrepreneurs, independent artists and creators to connect more effectively with their audiences at Artbox 2023
How Invade empowered emerging entrepreneurs, independent artists and creators to connect more effectively with their audiences at Artbox 2023

BEST EVENT: MORE THAN 500 ATTENDEES (GOLD) • BEST EXPERIENTIAL MARKETING (BRONZE) • BEST USE OF SPONSORSHIPS / PARTNERSHIPS (BRONZE)
BEST EVENT: MORE THAN 500 ATTENDEES (GOLD)
BEST EXPERIENTIAL MARKETING (BRONZE)
BEST USE OF SPONSORSHIPS / PARTNERSHIPS (BRONZE)

Invade is a creative space and content activation agency best known for developing popular retail and event concepts from around the region for the Singapore market. It's behind pop-up markets such as Artbox Singapore and Shilin Singapore. Both are hits with audiences here, so much so that they have drawn tens of thousands of visitors.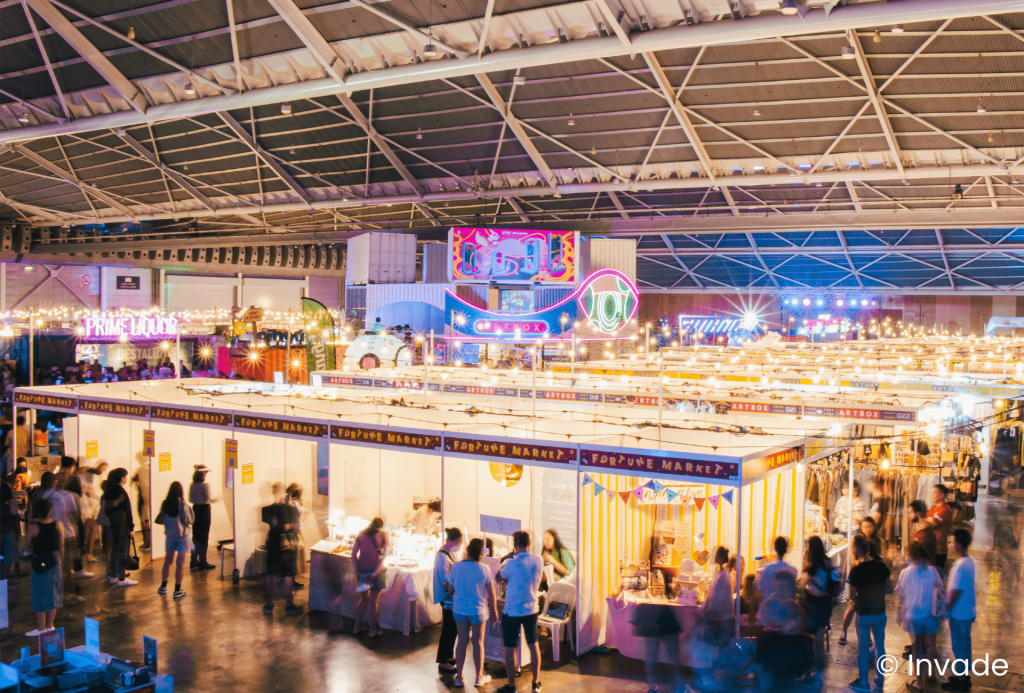 Artbox 2023, which was held across two weekends from 24-26 Feb 23 and 3-5 Mar 23 at the Singapore Expo, marked the return of Invade's flagship event after a 3-year hiatus. More than simply creating a larger-format event to repay the anticipation of audiences, Invade decided to move the entire event indoors – a first for Artbox.
This decision represented several bold opportunities for Artbox 2023. One of them was the freedom to simulate night-time, enabling Invade to pay homage to Artbox's origin as a night market in Bangkok and showcase its psychedelic aesthetic throughout the day.
Above all, being indoors meant Invade was no longer bound to costly weather-resilient infrastructure. Instead, it could reinvest in Artbox as a creative platform for emerging entrepreneurs, independent artists and creators, backed by thoughtful content and immersive programming.
The latter was the core focus of our partnership with Invade. Through our extensive event production capabilities, we were able to support Invade's efforts to help brands, artists and creators connect more effectively with their audiences at Artbox 2023.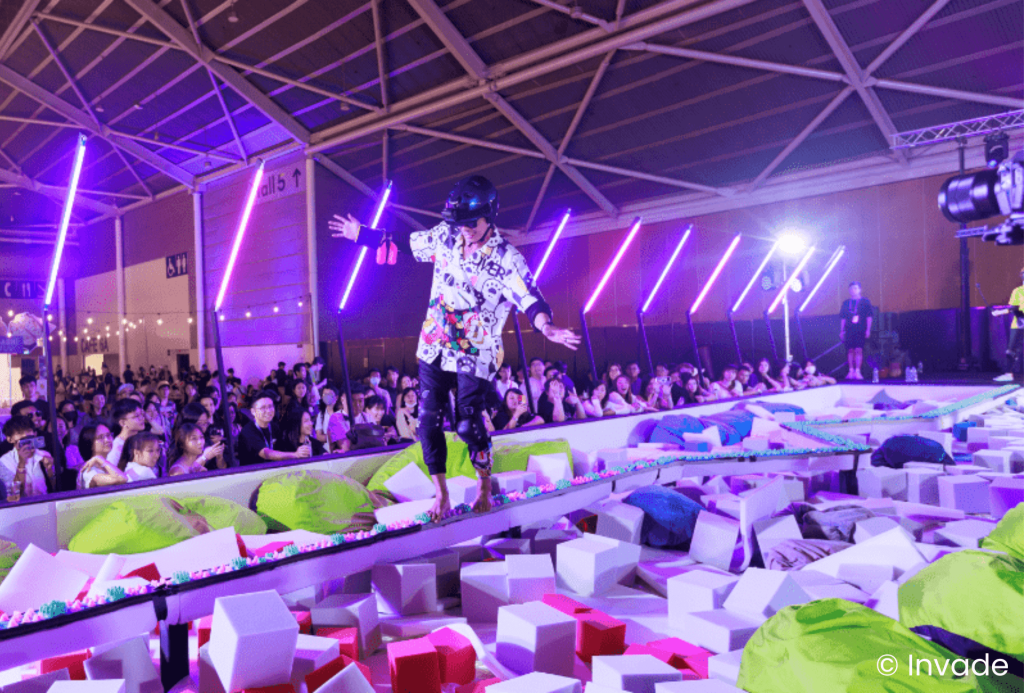 To keep up with the eclectic mix of programmes planned for Artbox 2023, we designed an innovative dual-stage setup. On one side of the event space, the main stage – armed with a high-res P2.5 mm LED video wall – burst to life with rich content that danced to every ebb and flow of the live stage performances.
We also committed our inventory of JBL loudspeakers to the main stage, enabling our sound engineers to push the boundaries of the sound stage and deliver clear, detailed audio that heightened the senses of audiences, no matter where they were in the event space.
On the other side of the event space, the spotlight was on SGAG's 'Beam of Pain' challenge. The comedy-focused digital content platform had conceptualised a 15m-long balancing beam lined with acupressure mats. Contestants who made it across the beam in record time stood to win prizes.
Working in close consultation with SGAG, we quickly converged on the goal to create a custom stage. A line of fluorescent lamps ran parallel to the balancing beam and washed it in a warm glow. We installed it in conjunction with a series of hybrid moving heads, whose spot lighting darted around the obstacle to mirror the frenetic pace of the unfolding action and leave audiences on the edge.
The whole support has been very, very tremendous.

visitors thronged Artbox 2023 across two weekends

spent at Artbox 2023 by the majority of visitors

spent per pax at Artbox 2023 by the majority of visitors

media mentions and coverage achieved, including in CNA, AsiaOne, TimeOut Singapore and many more

All results are provided by Invade.


How Orchard Road earned the lion's share of attention and footfall during the year-end holiday season with a meaningful social experience
Create your next event experience with us today
We can't wait to connect and bring your unique vision to life.